Spiced Poached Pears in Red Wine with Yoghurt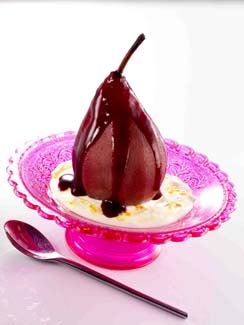 A colourful and healthy dessert with lots of flavour, from Julie Cox, of Beaufield Mews, Stillorgan, Co. Dublin.

Serves 4

What you need:

150ml / ¼ pint red wine
150ml / ¼ pint light cranberry juice
2 tablespoons honey
Juice and finely grated rind of 1 lemon
Juice and finely grated rind of 1 orange
4 firm ripe large pears, peeled, retaining stalks
1 cinnamon stick, broken in half
2 whole star anise
6 black peppercorns
2 whole cloves
275g / 10oz natural yoghurt

What you do:

1. Place red wine in a deep-sided pan just large enough to hold the pears in an upright position. Add the cranberry juice, honey, lemon juice and rind and half of the orange juice and rind. Bring to the boil and then add the cinnamon stick, star anise, peppercorns and cloves. Reduce the heat and allow to simmer gently for another few minutes to allow the flavours to infuse.

2. Add the pears, standing them upright in the pan. Cover and simmer gently for 20-35 minutes until the pears are just tender, basting them from time to time with the liquid.

3. Using a slotted spoon, transfer the pears to a dish and set aside. Boil the liquid in the pan until reduced by half to a more syrupy consistency. Leave to cool.

4. Mix the remaining orange juice and rind into the yoghurt and divide among the serving dishes. Place a cooled poached pear on top of each one and then carefully ladle over the reduced down cooking liquid to serve.