Spicy Lamb Jalfrezi / Belle Isle Blackberry Mousse / Garam Masala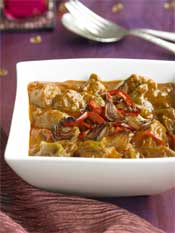 Diwali, the five-day Indian Festival of Lights, begins today. This special celebration of togetherness marks the start of the Hindu New Year and is one of the largest festivals of its kind in India and amongst Indian people all over the world. The word Diwali means 'Group of Light' and it takes place in autumn each year for five days. Lights play a very important part in all Diwali celebrations and, just like our Hallowe'en, fireworks are often used, symbolising the victory of divine forces over evil. During Diwali, people visit friends and relations, exchange presents and cards and enjoy festive meals. In Northern India, whole lentils and saffron rice are popular, and dishes are enriched with ghee (clarified butter), cream, yoghurt and groundnuts. Southern Indian dishes may be served with fresh vegetables and dhals made from dried peas, beans and lentils.

Diwali is also said to be the time to throw away old unwanted goods – and might also be a good time to buy a book on cooking of the region: The Festive Food of India and Pakistan by Louise Nicholson (Kyle Cathie, hardback, stg£5.99) is a nice little book with location photographs as well as good food shots; there is no index, which is irritating, but there are plenty of good recipes including some interesting desserts – not what you'd expect, if experience in Indian restaurants here is anything to go by, so perhaps they might take note. At the other end of the scale, Camellia Panjabi's '50 Great Curries of India', one of the all-time classics of Indian cookery, has been revised and updated and is available in paperback with an accompanying DVD from the same publisher, price stg£14.99.


Spicy Lamb Jalfrezi
This dish is characteristic of the Punjab region of India. Slow cooking in the oven develops the deep rich spicy flavours.
350g/3/4 lb good quality lamb – cubed
2 tbsp oil, or equivalent butter
1 tbsp cumin seeds
1-2 garlic cloves, finely chopped
3/4"/2 cm root ginger, peeled & finely chopped
1/2-1 teaspoon turmeric
2-3 tsp mild curry paste
1 green or red pepper, sliced & cut into chunks
6-8 cherry tomatoes, halved
6 tbsp/180 ml coconut milk
Salt to taste
11/2 tsp garam masala
A few sprigs of fresh coriander.
Preheat a moderate oven, 360'F/180°C/ Gas mark 5.
Heat the oil or butter in a casserole; add the lamb and stir-fry for 5 minutes until brown. Remove the meat and reserve. Add the cumin seeds to the pan for a few seconds to release the flavour. Add the garlic and ginger and stir-fry for another minute before adding the turmeric and a splash of water; when the mixture begins to sizzle again, add the curry paste. Next add the pepper and tomatoes and stir-fry for about 4-5 minutes, adding the coconut milk as required to keep the mixture juicy. Replace the lamb and add salt to taste; stir to mix, then cover with a tight fitting lid or foil and cook in the oven for about 45 minutes, or until the lamb is nearly cooked. Add the garam masala and fresh coriander, replace in the oven for a further 15-30 minutes, until the lamb is tender, then serve with warmed naan bread or plain boiled rice, Green Label Mango Chutney and poppodums.
Short Cut: It's nice to make the real thing but if you're in a hurry, simply cook the browned lamb, with a jar of Sharwood's Spicy Jalfrezi Sauce. Just before serving, fry 2 or 3 shallots (or an onion) and half a red pepper in a little oil until golden. Spoon the vegetables over the meat and serve immediately, with its accompaniments.
SHORT RECIPE: Belle Isle Blackberry Mousse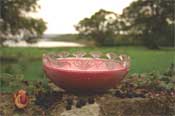 Belle Isle Castle
in Co Fermanagh is an exclusive retreat – but the excellent and very accessible cookery school has lots of interesting things going on between now and Christmas, including classes on Game Cooking, Wine & Christmas Entertaining, and Surviving Christmas. For more information on courses, call the school direct on +44 (0)28 6638 7231, or visit the website
www.irish-cookery-school.com
. This dessert, from
Irish Country House Cooking
(Epicure Press, EUR25) is a seasonal favourite at Belle Isle, and loses none of its flavour when using frozen fruit.
Serves 4-6
1lb / 450g blackberries, fresh or frozen and defrosted
juice of a small lemon, strained
4oz / 100g caster sugar
3 tbsp cold water
1/2oz / 15g powdered gelatine
1/4pt / 150ml double cream
2 egg whites
To serve:
1/4pt / 150ml single cream
a few sprigs of mint & a few raw blackberries
Place the washed blackberries in a saucepan with the lemon juice and the sugar. Place over a low heat, cover and simmer gently for about 10 minutes. Meanwhile, put the water in a basin, sprinkle in the gelatine and leave to soak for 5 minutes. Draw the pan off the heat, add the soaked gelatine and stir until dissolved. Pass the fruit and juice through a nylon sieve, into a large basin. Rub as much of the fruit through as possible and discard the pips left in the sieve. Set the purée aside until cool and beginning to set.
Beat the egg whites until stiff, and lightly whip the cream. Gently fold the cream and the egg whites into the purée until well blended, losing as little volume as possible. Pour the mixture into a serving dish. Chill until set. Serve garnished with a few whole blackberries and a sprig of mint, and offer a little extra pouring cream.
INGREDIENT OF THE WEEK: Garam Masala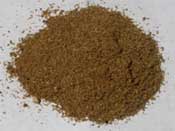 What Is It?
Garam Masala is a spice mixture used for enhancing the aroma and, to some extent, the flavour of Indian dishes. Garam means hot and Masala refers to the spices; thus classic garam masala is a mixture of spices that create a sense of heat – cinnamon, cloves, black pepper and black cardamom. However, every recipe for garam masala is different and chefs may include a wide range of ingredients.
Where Does It Come From?
It is a widely used Indian seasoning mixture; but, interestingly, as Cammellia Panjabi points out in her book '50 Great Curries of India', two of the main ingredients – cinnamon and cloves – were imported to India at the time of the spice trade.
Where Can I Get It?
Commercially prepared garam masala mixtures from well known brands such as Sharwoods are easily available. However, you can also make your own: a classic garam masala would have approximately equal quantities by weight of cinnamon, cloves and black pepper, and a little black cardamom. You could also add other spices to taste, eg fennel seeds and a little cinnamon leaf.
What Can I Do With It?
It is used mainly in meat dishes, and sometimes rice and poultry; although not harsh, is considered too powerful for fish. If fried in the early stage of cooking it affects the taste noticeably, but is more usually added later in the cooking process so that the effect is mainly aromatic.