Steak with Grilled Summer Vegetables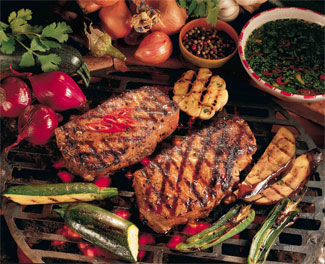 A simple seasonal grill, to cook on the barbecue or in the kitchen.

Serves 2

2 quality steaks, sirloin, striploin or fillet (must be well aged to ensure tenderness)
1 or 2 courgettes, cut into thick slices
1 or 2 peppers, deseeded and cut into thick slices
1 small red onion, peeled and cut into thick slices
1-2 tbsp. extra virgin olive oil
Salt and lots of freshly ground black pepper
1 tablesp. Balsamic or wine vinegar

Heat the grill/pan to maximum, a cast iron ridged pan gives excellent results.

Place the steaks in a shallow dish.

Place the chopped vegetables in a bowl.

Mix together the oil, salt, black pepper and balsamic vinegar.

Pour half of the mixture over the steaks and the remainder over the vegetables, mix well. Place the vegetables on the grill pan, then add the steaks. Do this in two batches if the pan is over crowded.

Cook the vegetables and steaks for approximately 5-8 minutes - to your liking.

Serve with a few new season potatoes, scrubbed and boiled in lightly salted water with a sprig of fresh mint.