Strawberry Delight Muffins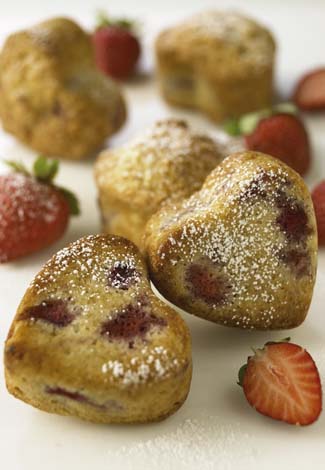 The following recipe is from baking specialists Dr. Oetker – an international operation with its headquarters in Germany, this fourth generation family business credits its success to their belief that "quality is the best recipe".

450g plain flour and 11/2 tsp for dusting
1 1⁄2 tsp Dr. Oetker baking powder
1⁄2 tsp salt
225g sugar
115g butter
2 medium eggs
2 tsp Dr. Oetker vanilla extract
115g milk
450g fresh or dried strawberries

1. Mix the flour, baking powder and salt together. In a separate bowl, cut the strawberries into bite size piece, toss them in a sieve with 1 1/2 tsp of plain flour to lightly coat them.

2. Cream the butter and sugar with electric hand held mixer until they become fluffy, about 3 minutes. Add the eggs and beat until combined. Mix in the vanilla extract.

3. Add the flour mix and beat them until they have combined fully. Add milk and beat till all are mixed well. Using a spatula fold the strawberries in the mix and keep it ready.

4. Preheat the oven to 180C. Grease the muffin pan and divide the batter among the cups evenly.

5. Bake for about 20-25 min.

6. Transfer it to the wired rack to cool.