Tiramisu with Vinsanto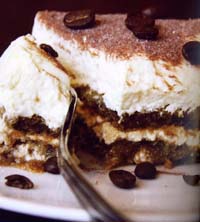 From "Dunne & Crescenzi - The Menu" by Eileen Dunne

"When we ran our little deli in Sutton back in 1995, neighbours would often ask us to cater for family gatherings, pre-wedding dinners, etc. Tiramisu was particularly popular - a combination of chocolate, cream cheese and coffee that most people adore. We have tried various liquors but find that vinsanto gives it an elegant lift."

Serves 6

350g mascarpone
60g castor sugar
250g packet of savoiardi biscuits (sponge fingers)
2 organic or free-range eggs
1 teaspoon of granulated sugar
1/2 glass of Tuscan vinsanto dessert wine
1 glass of cold black coffee (avoid instant coffee: instead use a very long espresso)
4 tablespoons of unsweetened dark chocolate cocoa powder, at least 60%

METHOD

• Separate the whites and the yolks of the eggs. Whisk the whites until stiff and set aside, cream the mascarpone, yolks and castor sugar, and gently fold in the beaten egg whites.

• Sweeten the coffee with 1 teaspoon of granulated sugar and the vinsanto liquor. Pour into a bowl and dip the savoiardi biscuits one by one into the coffee – this should be done briskly, to avoid the biscuits becoming soggy.

• Coat the bottom of a baking dish with a layer of the mascarpone cream followed by a layer of savoiardi, and alternate until all of the ingredients are consumed, finishing with a layer of the cream.

• Cover with cling film and refrigerate for at least 2 hours. Sprinkle with the dark cocoa powder just before serving.

Suggestion: The tiramisu should only be coated with the dark cocoa powder just before serving, otherwise it will soak into the cream and appear dull and uninteresting.