Tom Yaam Goong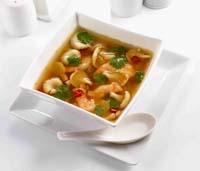 This traditional recipe for Spicy Prawn Soup with Thai Herbs comes from Chef Taweesak Trakoolwattana (Tao), of the popular Thai restaurant Saba, on Clarendon Street, Dublin 2.

Serves 4

What you need:

800 ml / 1½ pints chicken stock (homemade if possible)
50g / 2oz lemongrass stalks, outer layers removed and thinly sliced
80g / 3oz piece galangal root, peeled and sliced
75g / 3oz small pink shallots, chopped
6 kaffir lime leaves (fresh or frozen)
4 red bird's eye chillies, sliced
2 dessertspoons chilli paste in oil
50ml / 2fl oz Thai fish sauce (nam pla)
50ml / 2fl oz freshly squeezed lime juice
2 teaspoons caster sugar
20 tiger prawns, raw, peeled (and thawed if frozen)
175g / 6oz oyster or button mushrooms, trimmed and sliced

15g / 1/2oz fresh coriander leaves

What you do:

1. Put the chicken stock into a large pan and heat until simmering. Add the lemongrass, galangal, shallots, kaffir lime leaves and bird's eye chillies. Bring back to a simmer and cook for a few minutes to allow all of the flavours to combine.

2. Add the chilli paste in oil to the chicken stock mixture and then season with the fish sauce, lime juice and sugar.

3. Add the prawns and mushrooms and cook for a minute or two until the prawns have turned pink and the mushrooms are tender.

4. Ladle into serving bowls and scatter over the coriander leaves to serve.