Tomato and basil tart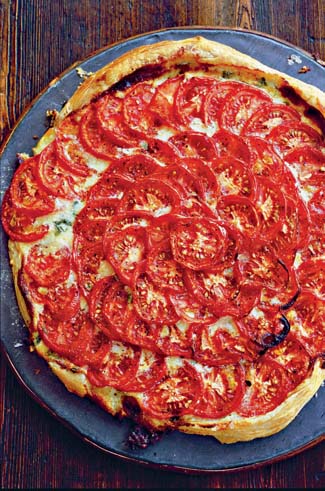 From Diana Henry, Food From Plenty (Mitchell Beazley, 320pp, hardback stg£20)

"Large, scarlet, fragrant with basil, this is a gorgeous tart and, in terms of cooking, is not much more than an assembly job. Do make sure your tomatoes are finely sliced or they won't become cooked through and slightly caramelised in the cooking time."

Serves 6
1.2kg (2lb 12oz) plum tomatoes
200g (7oz) mascarpone
1 garlic clove, crushed
100g (31/2oz) Parmesan cheese, grated
75g (21/2oz) Gruyère cheese, grated
40g (11/2oz) basil leaves, torn, plus more to serve
salt and pepper
500g (1lb 2oz) ready-made puff pastry

1 Preheat the oven to 200°C/400°F/gas mark 6. Slice the tomatoes about 5mm (1/4in) thick. Discard the slice that has the core (you can use this and the other end piece for a tomato sauce); you need only the clean slices for this. Mash the mascarpone with a fork and add the garlic, cheeses and basil. Season.

2 Roll the pastry out to make a 33cm (13in) circle and put it on a floured baking sheet. Spread the mascarpone mix over this, leaving a 5cm (2in) rim round the outside. Now place the tomatoes on the pastry, starting from the outside edge. Place them in overlapping concentric circles, ending up with one slice in the middle of the tart. Season the tomatoes with salt and pepper.

3 Put into the oven and cook for 30 minutes. Reduce the heat to 150°C/300°F/gas mark 2 and cook for a further 35 minutes. The tomatoes should be slightly caramelised. Scatter with some basil leaves and serve immediately.

Variation: Tomato, thyme and mature Cheddar tart Make the tart as above, but replace the Parmesan with really strong Cheddar cheese and leave out the basil. Scatter the tomatoes with the leaves from about 5 thyme sprigs before cooking.