Traditional Roast Goose with Potato Stuffing and Roast Bramley Apples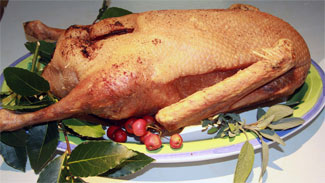 by Darina Allen

Roast Goose with Potato Stuffing is almost my favourite winter meal. However, a word of caution, a goose looks enormous because it has a large carcass. Many people have been caught out by imagining that it will serve more people than it does.

Allow 450g (1 lb) in cooked weight per person. This stuffing is also delicious with duck but use one quarter of the quantity given below.

Serves 8-10

4.5kg (1 x 10 lb) approx. goose

Stock

Neck, giblets and wishbone of goose
1 sliced onion
1 sliced carrot
Bouquet Garni
a sprig of thyme
3 or 4 parsley stalks
a stick of celery
6 or 7 peppercorns
cold water to cover

Potato Stuffing

30g (1 oz) butter
450g (1 lb) chopped onions
450g (1 lb) cooking apples e.g. Bramley Seedling, peeled and chopped
1 fl oz (25ml) fresh orange juice
900g (2 lbs) potatoes
1 teaspoon each thyme and lemon balm
3 teaspoons finely grated orange rind
salt and freshly ground pepper

Accompaniment – Irish Bramley apples

To make the stuffing:

Melt the butter in a heavy saucepan. Add the onions, cover and sweat on a gentle heat for about 5 minutes; add the apples, herbs and orange juice. Cook covered until the apples are soft and fluffy.

Meanwhile, boil the potatoes in their jackets until cooked, peel, mash and add to the fruit and onion mixture. Add the orange rind and seasoning. Allow it to get quite cold before stuffing the goose.

To prepare the goose:

Gut the goose and singe off the pin feathers and down if necessary. Remove the wishbone from the neck end. Combine the stock ingredients in a saucepan, cover with cold water and simmer for 11/2 -2 hours. Season the cavity of the goose with salt and freshly ground pepper; rub a little salt into the skin also.

Stuff the goose loosely and roast for 2 hours approx. in a preheated moderate oven, 180°C/350°F/regulo 4.

Prick the thigh at the thickest part; the juices which run out should be clear. If they are still pink, the goose needs a little longer. When cooked, remove the goose to a serving dish and put it in a very low oven while you make the gravy.

To make the gravy:

Spoon off the surplus fat from the roasting tin (save for sautéing or roasting potatoes – it keeps for months in a fridge). Add about 1 pint (600ml/2 1/2 cups) of the strained giblet stock to the roasting tin and bring to the boil.

Using a small whisk, scrape the tin well to dissolve the meaty deposits which are full of flavour. Taste for seasoning and thicken with a little roux if you like thickened gravy. If the gravy is weak, boil it for a few minutes to concentrate the flavour; if it's too strong, add a little water or stock. Strain and serve in a hot gravy boat.

Carve the goose and serve the Bramley Apple Sauce and Gravy separately.

Variation: For smaller numbers make Roast Duck with Traditional Potato Stuffing Use 1/4 or 1/3 of the Potato Stuffing recipe, depending on the size of the duck. Serve with Bramley Apple Sauce.