Tuscan Lemon Chicken with Provencal Couscous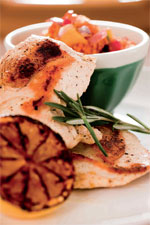 This wonderfully summery dish in Truly Tasty comes from one of Ireland's most original chefs, Paul Flynn, of the renowned restaurant and cookery school, The Tannery, in Dungarvan, West Waterford.

Serves 4

For the Tuscan Lemon Chicken

I small chicken (approx. 1.4kg/3lb), jointed
150ml (5fl oz) olive oil
Zest of 2 lemons finely chopped
150ml (5fl oz) fresh lemon juice
3 garlic cloves, finely chopped or grated
5 small sprigs (approx. 15g) fresh rosemary,
A pinch (1/4 level tsp) freshly ground black pepper

For the Provençal Couscous

300ml (½ pint) chicken stock (add ½ a suitable chicken stock cube to 300ml water)
1⁄2 pinch ground turmeric
1⁄2 pinch paprika
1⁄2 pinch ground cumin
1 tbsp olive oil
1⁄2 pinch chilli powder
1⁄2 pinch sugar
60ml (2fl oz) tomato juice
Juice of half an orange
175g (6oz) couscous
1 red onion, cut into 1cm (½ in) cubes
1 red pepper, halved, seeded and cut into 1cm (½ in) cubes
1⁄2 yellow pepper, seeded and cut into 1cm (½ in) cubes
1 garlic clove, crushed
100g (3½ oz) courgette, trimmed and cut into 1cm (½ in) cubes
A pinch (1/4 level tsp) of freshly ground black pepper.

To prepare the chicken, mix the olive oil, lemon zest, lemon juice, garlic, rosemary and pepper in a bowl large enough to hold the chicken.

Add the chicken pieces, turning to coat, and refrigerate, covered with clingfilm, for at least 2 hours or ideally overnight.

When ready to cook, preheat the oven to 180°C/350ºF/Gas 4. Turn the chicken in the marinade once before cooking.

Place the chicken on a baking tray in the oven and cook for 15 minutes. Turn over and cook for another 20–30 minutes until skin is golden brown. To check that the chicken pieces are cooked through, pierce the flesh with a skewer – if the juices run clear, then the chicken is cooked.

While the chicken is roasting, prepare the couscous. Bring the stock, spices, sugar, tomato juice and orange juice to the boil and cook gently for 10 minutes.

Pour the couscous into a large bowl and pour 1⁄4 of the liquid over it. Stir, cover completely with clingfilm and allow to steam for 10 minutes. Break up with a fork and pour in another 1⁄4 of the stock.

Cover once more and let it rest for another 10 minutes. Again loosen with a fork.

Add the rest of the stock to the couscous. Cover once more. Once the couscous has absorbed all the liquid and fluffed up, it is cooked. If there is any excess liquid after the couscous has fluffed up, you can simply drain it off.

To prepare the vegetables, first heat a large frying pan. Sauté the onion for 2–3 minutes in olive oil, and then add peppers and garlic.

Cook for 2 more minutes and then add in the courgette. Cook for a further 3–5 minutes, or until the vegetables are tender but still holding their shape. Season with pepper, then mix the vegetables through the couscous.

To serve: When the chicken is cooked, remove it from the oven and allow it to rest for 10 minutes.

Serve the chicken on warmed plates (allowing 150g per portion, weight includes skin) with a portion of Provençal couscous.