Warm Cashel mussels with garlic, tomato and chilli / Peach and Strawberry Parfait / Mussels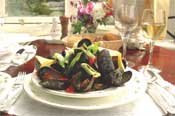 Like many other concerned consumers, I've been spending a lot of time reading the small print on labels recently - and finding that the information lurking there is often seriously depressing. Vacuum-packed crabmeat sold under a respected Dublin brand name, for example, seemed a very handy item to have in the fridge for quick summer salads and starters - until I noticed that the crab actually came from Peru. Is this madness or what?

And the gaps in more ordinary local produce available in the shops can be surprising too. In Skerries last weekend, we were pleased to notice that local produce is marked up at the independent Gerry's supermarket (what a refreshing change from the Tescos, Centras and Spars); there were fresh peas in the pod, fine beans, bunches of carrots with fresh green tops on (unlike the posers from abroad, which are wilting from the outset), strawberries (nice tasty little ones), raspberries (from a named grower) and, of course, Rush Queens potatoes; yet tomatoes (once the pride of the area), were just 'Irish'. And, sadly, although we passed acres and acres of glasshouses, there was nothing growing in any of them (or much sign of recent use). Is this beautiful fertile land all destined for developers, who will cover it with masses more boxy little houses with no chimneys?

On the other hand, it's really encouraging to see local groups around the country getting together and promoting the food of their area – Kinsale was ahead of the game, when they started up their famous Good Food Circle several decades ago, and many other places are now using good food as part of their sales package to entice visitors. The pretty mediaeval village of Carlingford in Co Louth launched a Good Food Circle this year, for example, and – a sign of the times - they also promote a local cookery school and farmers markets in their brochure. Further north, Killybegs and Tyrone have got together to promote their produce and restaurants – with a 'Little Black Cookery Book' featuring recipes from the two areas as part of this unusual initiative. West Waterford did something similar a while back, with a characterful brochure featuring line drawings by the inimitable Ken Buggy and a recipe from each member establishment or product – and, most recently, County Offaly has come up with a smart folder of colourful DL cards highlighting the 'Offaly Delicious' products of ten specialist food companies and producers within the county, a surprising range covering everything from local meats, to celebration cakes.


Warm Cashel mussels with garlic, tomato and chilli
Connemara is a zillion miles from the east coast madness and Kay and Dermot McEvilly's Cashel House Hotel is secluded in a 40-acre estate of flowering shrubs and woodland walks, at the head of Cashel Bay. It features in my new book, Ireland …for Garden Lovers, both as a beautiful garden to visit, and a wonderful place to stay or eat - local and home grown produce is abundant, and they treat it with respect. The mussels for this dish from Irish Country House Cooking are picked from the rocks in Cashel Bay in the morning and used for dinner the same evening.
Serves 6 as a starter, or a light lunch.
61/2 lb / 3kg mussels, approx.
olive oil
3 cloves of garlic, peeled and finely chopped
1 green chilli, finely chopped
1 red chilli, finely chopped
1 x 14 oz / 400g tin plum tomatoes
1/2 pint / 300ml lager
2 scallions cut into strips
First wash the mussels in plenty of cold water; scrub well and remove the beards; use only mussels which are tightly closed, discarding any that are open.
In a large pan, heat some olive oil and sauté the garlic in it to soften a little without browning. Add the mussels and cook for 5 minutes (or just until the shells are opening), then add the chopped chilli and the tomatoes. Cook for a further 3 minutes to heat through, then finally add the lager and cook for a further 2 minutes or until the broth reaches boiling point. Serve in large bowls topped with sliced scallions, and accompany with home-made brown bread.
SHORT RECIPE: Peach and Strawberry Parfait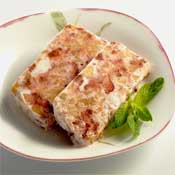 This summery recipe is from Farmgate Café at The English Market in Cork – and they don't have far to go for the ingredients, as the market probably supplies more great local and seasonal foods than anywhere else in Ireland.
Makes enough for a 450g /1lb loaf tin:
300ml /1⁄2 pint water
2 dessertspoons sugar
200ml /7fl.oz white wine
2 cardamom pods, crushed
4 large peaches
450g /1lb strawberries, hulled & trimmed
4 scoops vanilla ice-cream
600ml /1 pint natural yoghurt
Mint sprigs to serve
To poach the peaches, bring the water and sugar to the boil then keep it simmering and add the white wine, cardamom pods and peaches. Simmer for about 10-15 minutes until the peaches are tender when tested with a skewer, then drain off the liquid. Crush the strawberries, chop the peaches and mix the fruit together. Soften the ice-cream, but do not let it melt. Mix the fruit, ice cream and yoghurt together. Line the tin with cling film and pour ingredients into it. Freeze for at least 6 hours. Stir gently every hour for 5 hours. Slice, and serve each portion with a sprig of mint.
INGREDIENT OF THE WEEK: MUSSELS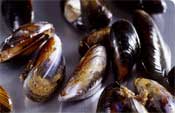 What Are They?
Although there are several types of this well-known shellfish – including the New Zealand green-lipped mussel, which is exported pre-cooked and vacuum-packed, and is all too common on Irish menus - the common 'wild' mussel familiar in Ireland is a smaller variety, Mytilus Edulis.
Where Do They Come From?
They grow in clusters, attaching themselves to rocks along the shoreline – and, on mussel farms, to ropes suspended from rafts located in clean tidal waters, such as Kenmare Bay, where they feed by filtering nutrients out of the water.
Where Can I Get Them?
From your local fish shop, of course – or they're there for the picking all along our coastline and, in time-honoured tradition, many a summer day can be spent by families collecting a bucket of mussels for the pot – just be sure to choose a clean tidal area, without any obvious source of pollution nearby.
What Can I do With Them?
Use very fresh: scrub them well and remove the hairy 'beards'; reject any that do not snap closed when handled. Can be eaten very simply when on holiday – just put the mussels into pan, cover and cook over high heat for a few minutes until the shells have opened. Reject any that do not open, and serve the mussels immediately, with fresh brown bread, the juices that will have accumulated in the pan and, perhaps, a wedge of lemon. Many classic recipes, including moules marinieres, are fancier versions of this basic method. Mussels are a key ingredient in many famous dishes, including Spanish Paella – and our main recipe given today.