Galway - Online Shops
Found 8 matches, showing 1 - 8 below.
Ballyconneely

,

Co. Galway
Fish & Seafood / Online Shop / Producers Shop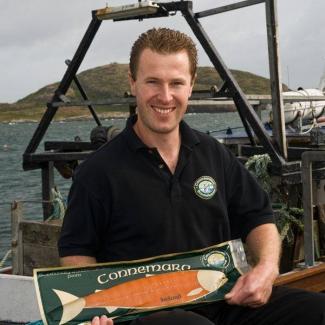 Founded in 1979 by John and Bridget Roberts, this famous and beautifully located smokehouse near Clifden is now run very successfully by their son Graham and his wife Saoirse. They offer an appealing range of products and have earned a reputation for ...
more...
Ronan Byrne - AKA The Friendly Farmer - is a familiar figure at Galway and Moycullen farmers' markets, where he sells the free range meat and - especially - poultry - produced on the 35 acre farm outside Athenry in East Galway where he grew up, a ...
more...
In business since 1876, fourth generation baker Jimmy Griffin is keeping up the family tradition in style and has won many an accolade, notably for the Griffin's Artisan range which includes allergy-specific, yeast-free and a collection of 'Galway' bre ...
more...
Renowned medical herbalists, Jorg Muller and Karin Wieland, specialise in blending organic and herbal teas for discerning, health-conscious tea-lovers. Accolades include a Euro Toques award in 2009, for their organic whole leaf: "an innovativ ...
more...
Good Food Ireland members Kevin and Ann Dunne have been known for good traditional cooking at the charming White Gables restaurant for many years. They have a lovely deli/bakery next door to the main restaurant, offering a welcome range of artisan pro ...
more...
Ireland can boast a good few high quality smoked salmon producers and here, on the south side of Galway Bay, Declan Droney's family business in the picturesque seaside village of Kinvara is among the most highly-praised. Personal endorsements aboun ...
more...
Former award-winning chef from Delphi Lodge, Cliodhna Prendergast's latest project is Breaking Eggs (www.breakingeggs.com), an innovative online cookery programme for parents and children championing family cooking. Each attractive 10-minute vi ...
more...
Internet/Phone Mail Order / Meat & Game / Online Shop

Born and bred on the beautiful hills of Connemara, Connemara Hill Lamb is a seasonal product. It has European Protected Geographical Indication (PGI) status and is one of only a handful of Irish products to have comparable recognition: the use of the n ...
more...