Galway - Character Pubs
Found 4 matches, showing 1 - 4 below.
Character Pub / Pub / Restaurant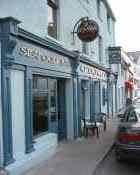 The O'Dowd family have been welcoming visitors to this much-loved pub overlooking the harbour for longer than most people care to remember. There are some new developments from time to time, but the old bar is always the same – or at least ...
more...
Everybody loves Burkes pub in Clonbur - this characterful old family-run pub is one of this attractive village's greatest assets, well known for atmosphere, music and homely food. It's a friendly, welcoming place no matter when you might d ...
more...
This is just the kind of Irish pub that people everywhere dream about. It's as pretty as a picture, with a well-kept thatched roof and a lovely waterside location (with plenty of seats outside where you can while away the time and watch the swans ...
more...
Tigh Neachtain (Naughton's) is one of Galway's oldest pubs - the origins of the building are medieval and it has been in the McGuire family for three generations – and the interior has remained unchanged since 1894. Quite unspoilt, it has great c ...
more...