Waterford - Delis
Found 3 matches, showing 1 - 3 below.
Baking/Bakery / Café / Deli / Restaurant / Speciality Store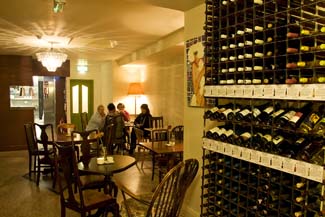 For a place that's only been open since September 2008, London-born Louise Clark's smashing café restaurant & deli just off the square in Dungarvan town centre has a very long-established air – and no wonder: it hit the gro ...
more...
Deli / Food Market / Internet/Phone Mail Order / Online Shop / Speciality Store


Ireland's premier cheesemongers, Sheridans, have partnered with Ardkeen - which says a lot about the special nature of this extraordinary store, with its absolute commitment to quality and community, and its foundation of very local artisan stocks ('Ta ...
more...
In a lovely corner building with large windows overlooking the quays (and with parking opposite), the consistently high quality of food and wine offered at Frank and Bernadette Treyvaud's delicatessen and wine shop keeps 'em coming back for ...
more...