Waterford - Cafés
Found 7 matches, showing 1 - 7 below.
Baking/Bakery / Café / Deli / Restaurant / Speciality Store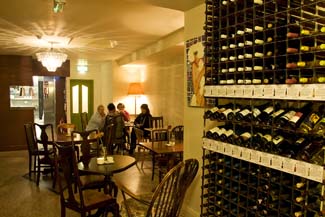 For a place that's only been open since September 2008, London-born Louise Clark's smashing café restaurant & deli just off the square in Dungarvan town centre has a very long-established air – and no wonder: it hit the gro ...
more...
Joan Power's gem of a café is just outside Dunmore East village – from the Waterford direction it's past the harbour and 200m up the hill, on the left – but well worth the effort of seeking out for lovely fresh fish and home ba ...
more...
This tiny café serves remarkably authentic Italian food at very reasonable prices and has become a favourite with the people of Waterford. The menu, like the proprietors is very Italian - you feel immediately transported to a back street in Rom ...
more...
Esther and Joe Barron's business dates back to 1887, and this wonderfully traditional bakery still uses the original Scottish brick ovens to make breads with real flavour and an old-fashioned crust; the range is wide (and well worth investigating), but ...
more...
Set in a lovely building, this bright café on the ground floor offers a pleasing place to take a break. Interesting old prints of Waterford life adorn the walls and there's a spacious seating area with couches, reading material and tables ...
more...
Behind a pleasingly low key classical shopfront on the main street of this heritage town, The Summerhouse has quietly been building up a following for some years now and - whether to be tempted by the unusual selection of homewares and gifts in the sho ...
more...
In a lovely corner building with large windows overlooking the quays (and with parking opposite), the consistently high quality of food and wine offered at Frank and Bernadette Treyvaud's delicatessen and wine shop keeps 'em coming back for ...
more...