Wicklow - Hotels
Found 7 matches, showing 1 - 7 below.
Macreddin Village

,

Co. Wicklow
Distillery/Brewery / Farmers/Country Market / Hotel / Pub / Restaurant / Speciality Store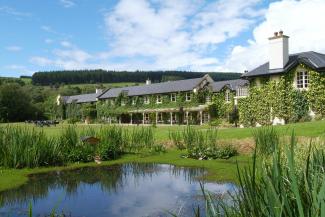 Built on the site of a deserted village in a Wicklow valley, this extraordinary food, drink and leisure complex exists thanks to the vision of three brothers, Evan, Eoin and Bernard Doyle. Below we outline the various strands that make up this very co ...
more...
Just over 30 km south of Dublin city this luxurious golf resort and leisure hotel enjoys a stunning setting between the mountains and sea in the Garden of Ireland. Though only minutes from Greystones it benefits from a tranquil rural setting and wonder ...
more...
This quietly contemporary privately owned hotel is very useful to know about as it offers a good moderately priced place to stay in this beautiful area. Public areas include an attractive modern bar, where informal food is served and the spacious and ...
more...
A rambling old coaching inn set in lovely gardens alongside the River Vartry, this much-loved hotel has a long and fascinating history - it's one of Ireland's oldest coaching inns, with records indicating that it was built around 1720. In ...
more...
A short drive south of Dublin city, in one of Ireland's most scenic locations in the beautiful Wicklow Hills, this deluxe hotel set in the 47 acre Powerscourt Estate contributes a wide range of amenities to the area. Reminiscent of a formally ice ...
more...
This pleasant country hotel lays claim to the title of Ireland's oldest hotel, with a history going back to 1608, when it was first licensed as a coaching inn on the old Dublin-Wexford highway - and later came to prominence when gold and copper w ...
more...
Famous for its views over the luxuriantly green and leafy Glen O'The Downs, this well-located hotel has all the advantages of a beautiful rural location, yet is close to Dublin and offers a wide range of facilities, including an excellent Health and Le ...
more...