Monaghan - All Hospitality
Found 10 matches, showing 1 - 10 below.
Once described as a "capsule of social history" because of their collection of family portraits and memorabilia going back 250 years or more, the Madden family's wonderful 18th century mansion is set in beautiful countryside, amidst 2 ...
more...
Castle / Historic House / Hotel / Producers Shop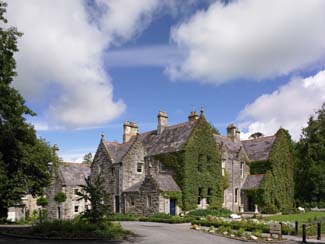 In recent times Castle Leslie ceased operations as an hotel and, following extensive refurbishment, re-opened as a private venue for weddings, conferences etc - however it has now turned the full circle and reopened as a hotel again (see below). Guest ...
more...
Overlooking the town from a fine hillside location, the Hillgrove is the leading hotel in the area; is smartly furbished in a classic contemporary style and offers excellent business and leisure facilities. An impressive foyer sets the tone and the pu ...
more...
Well known Euro-Toques chef Neil McFadden and his wife Hazel, who is a tutor at Kitchen in the Castle cookery school at Howth Castle, Co Dublin, run this innovative company which supplies fresh pre-prepared Christmas dinners. There are half a dozen men ...
more...
A handsome 19th century cut limestone courthouse faces down the main street of this busy town and, in a prime position alongside it, you'll find Conor Mee and Charlotte Carr's atmospheric and friendly restaurant. Originally a private house &ndas ...
more...
Brehon Brewhouse is set amongst the rolling drumlins of Patrick Kavanagh country in County Monaghan – hence the inspiration for the names of their Stony Grey IPA and Shanco Dubh porter. Open since April 2014 but already in the process of expand ...
more...
Ronnie and Lyla Steele started Silver Hill Foods in 1973, originally intending to breed ducks and sell the day-old ducklings to Irish producers. Since then, they have indeed bred ducks - but for the table. And their good husbandry has produced a un ...
more...
Mary and Jim Kirk, who are from the well known fishing port of Clogherhead, now run this retail outlet in Co. Monaghan, where they offer a fine range of seafood sourced from their own home port.
more...
This fine owner-managed country hotel just south of Carrickmacross is set in a parkland estate, with its own 18-hole golf course, and serves the leisure and business requirements of a wide area very well. As you go over the little bridge ("Bewar ...
more...
Right in the centre of Monaghan, the Redmond family's bar is furnished and decorated in traditional Victorian style, with a lot of fine mahogany, stained glass and mirrors. Everything is gleaming clean and arranged well for comfort, with high-ba ...
more...