GC's Shop
Found 1 matches, showing 1 - 1 below.
eBook Ireland for Food Lovers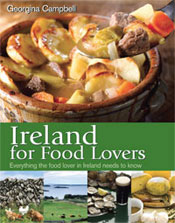 The Ireland for Food Lovers eBook is now available on any eReader. People can purchase the ePub for any eReader or tablet / smartphone App. The Amazon version will work on the Kindle device as well as the many Kindle Apps on smartphones and tablets. The eBook of Ireland for Food Lovers is available in over 65 ebook retailers around the world. All of these eBook Stores sells the book in the ePub format bar Amazon and Mobipocket which sell it in the .mobi format.
€0.00 (ex. VAT) * (free p&p in Ireland)