SOLD OUT - NEW EDITION PENDING Georgina Campbell's Ireland - The Guide (11th Edition)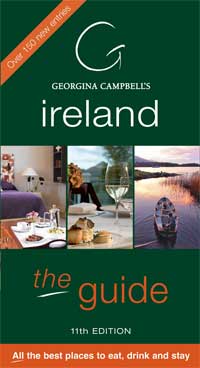 SOLD OUT - NEW EDITION PENDING

Voted number one in the Hospitality Ireland magazine "Good Guidebook Guide" from amongst ten top domestic and international guides.

Dubbed the "glovebox bible" and with countless fans, this is the critics choice of guide books. This 11th edition is the most recent edition of the must have guide book to Irish food and hospitality. An indispensable guide for independent travellers.
The Guide has increased yet again by more than 150 new recommendations and has grown to a whopping 732 pages, it is full colour and has retained popular features such as journey/break planners and money off vouchers and has many new town and area "round ups" that give lots more information that will prove useful to the travelling tourist and those taking weekend breaks. Best of all the price remains the same - at only €20 this is truly the best value hospitality guide to Ireland available.
Our aim is to to lead you to the best places to eat, drink & stay wherever you are in Ireland - north or south - and while this guide is comprehensive, it is also highly selective. We have over 1,500 recommendations across 15 categories from castles to country houses, cafés to pubs, restaurants to special hotels etc. But this book contains the cream of the Irish hospitality market e.g. there are in excess of 10,000 pubs in Ireland, never mind all the other categories so we only have a small number of recommendations when this is taken into account.

This is the guidebook that will take you to magical places in Ireland that no other guide book can, it provides the perfect reference for planning holidays and short breaks in Ireland in the most enchanting surroundings plus information for business travellers and conference planners.
Makes an ideal gift for the discerning traveller & foodie in your life.
This years guide contains four €5 off vouchers for use in 100s of participating establishments around the country, if you use them the book ends up costing you nothing, if you buy it as a present for someone it doubles the value of the gift.
(See the key features of this guide book below quotes)

Quotes for previous edition of the Guide:

• "difficult to find a more comprehensive handbook for eating, drinking, sleeping…on this bountiful island" Sunday Business Post, Ireland's Top 50 in Food

• "renowned for finding hidden out-of-the-way gems in every corner of Ireland" The Star

• "popular guide" Irish Times

• "…the most reliable pointer to the best in Irish hospitality" Daily Mail

• "…Ireland's leading hotel and restaurant guide" Daily Mail

• "…only the best will squeeze into Ms Campbell's Ireland – a respected 'glove box bible'" Daily Mirror



Quotes for previous editions of Georgina Campbell's Ireland - the Guide:

"Guide is a voyage of discovery for the traveller" The Irish Examiner

"Gastro Gem – anyone with even a passing interest in good food will own a copy" Jillian Bolger, The Sunday Tribune

"you can't go far wrong with the latest edition of Georgina Campbell's Ireland Guide. Something of a bible among foodies…perfect for picking stop off points for modest refreshments on long journeys, as well as accommodation and fine dining" Ross Golden-Bannon, Sunday Business Post

"It's a must have glove box accessory guaranteed to bring you to the best places to eat, drink and stay" Fine Wine & Food Guide, The Irish Independent

"the hospitality bible" The Daily Mail

"unparalleled" The Sunday Tribune

"Trustworthy" Guide to the guides - The Sunday Times

"…the long established bible for foodies and travellers alike" The Sunday Business Post

"Honest, accurate and informative" Jillian Bolger, The Sunday Tribune

"…so many guides to food & travel in Ireland…Last Post's perennial favourite is the Georgina Campbell guide…the guide visits entrants anonymously; you can't pay to get an entry and they take no advertising either. Other, less discerning but more bumptious guides take note (you know who you are)" The Last Post, The Sunday Business Post

"Essential kit for any food lover" The Sunday Tribune

"essential reading before planning a weekend away or heading out for dinner" The Sunday Tribune
"…widely regarded as the must-have glove compartment accessory for independent travellers in Ireland." "HOT TIP" Irish Examiner

"For the foodie library" Darina Allen, The Village

"I have to thank Georgina Campbell's encyclopaedic Ireland Guide…" Tom Doorley, Irish Times
"Honest, impartial and written with passion. The Guide is the only hotel guide in this country that experts take seriously." The Dubliner Magazine
"Ireland's Premier Guide" The London Guardian
"Best Guide Book" Harpers & Queen Magazine
"If you needed a 'where do I eat/drink/stay' guide to Ireland and could only afford one, 'The Georgina' would have to be it.." Editor, Food and Wine Magazine
KEY FEATURES:

=> Quality paperback, full colour
=> Wide range of categories – hotels, restaurants, cafés, pubs, country houses, guesthouses and farmhouses – ensures the best choices for the discerning traveller in all price ranges.

=> Everything you need to know about each establishment, its location, style, size, price range etc

=> Outstanding establishments highlighted - starred restaurants, deluxe hotels, outstanding pubs and guesthouses

=> An easy-to-use format, with selections of establishments based solely on merit and arranged alphabetically by county.

=> Country and county introductions put entries into context, augmented by concise background on towns and villages. This helps provide a "feel" for an area as a whole.
=> An informative Features section highlights the quality and variety of Irish produce

=> Includes a 'Best Budget' category that ensures the inclusion of smaller high quality establishments such as farmhouse accommodation or cafés.

=> Photos and maps along with details of local amenities

=> "90 minutes from the Red Cow" – work weary Dubliners in need of revitalising short breaks can easily find our recommended destinations within 120km of the Red Cow

=> Colour coded route planners will highlight the recommended establishments that are on or near the ten main road routes in Ireland, this will make planning lunches and rest breaks a lot easier.

=> New – detailed area roundups highlighting the best local hospitality as well as the most popular activities to do in the locality while there.

=> Four money off vouchers (€/£5) for readers in the establishments that opt into this scheme, these are highlighted in the guide with a voucher symbol (dependant on enough establishments opting in).

c. 732 pages, full colour.

All Georgina Campbell Guides follow a strict policy - establishments are selected through merit alone, they are judged through unbiased assessment made by anonymous inspections - all are included in the guides for free.
SOLD OUT - NEW EDITION PENDING
€0.00 (ex. VAT) * (free p&p in Ireland)
ISBN: 978-1-903164-280