A Taste of the Waterways Guide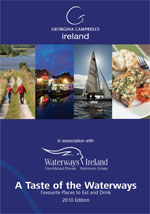 Find all the best places to eat & drink along Ireland's inland waterways.
If you've never spent a few days lazing around our wonderful waterways you just don't know what you're missing. It's a magical world of pottering along, enjoying the wildlife and exploring the unfolding countryside - just sooo relaxing… especially when you have Georgina Campbell's A Taste of the Waterways guide to hand, to ensure you find all the best pubs and restaurants along the way.
You don't have to set foot in a boat to enjoy the hospitality along our waterways, but it would be a pity to miss out – especially when you have the guidance of a plethora of Waterways Ireland publications and this little gem, written jointly by Georgina Campbell and boating expert W. M. Nixon (sailing Correspondent with the Irish Independent and Contributing Editor of Ireland Afloat magazine).
Published in association with Waterways Ireland, the independently assessed 68-page guide leads visitors along all of our navigable waterways, and to nearly 100 great hostelries and restaurants sprinkled from Limerick up the mighty Shannon via Lough Derg, Lough Ree and the Shannon-Erne Waterway, to Lough Erne; and from Dublin out west along the Royal Canal and the Grand Canal – which also links southwards to the beautiful River Barrow.
It's a world apart and, using this guide and other Waterways Ireland publications such as the 'What's On' guide, you'll find there's something for everyone, of all ages.
A Taste of the Waterways is available without charge from Tourist Information Centres and Visitor Attractions along the waterways, and is also distributed to over 60 hotels.
To obtain this free publication visit the
Waterways Ireland online shop
€0.00 (ex. VAT) * (free p&p in Ireland)