iCook with Neven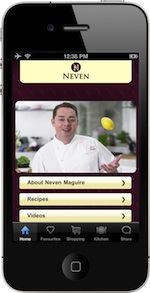 Click here to view the "iCook with Neven" App for iPhone, iPad & iPod Touch
Join Neven Maguire in the kitchen with 60 of his favourite recipes - old & new - on his very first app for the iPhone, iPod Touch and iPad entitled "iCook with Neven", allowing people to browse his recipes and plan meals while at home or on the move.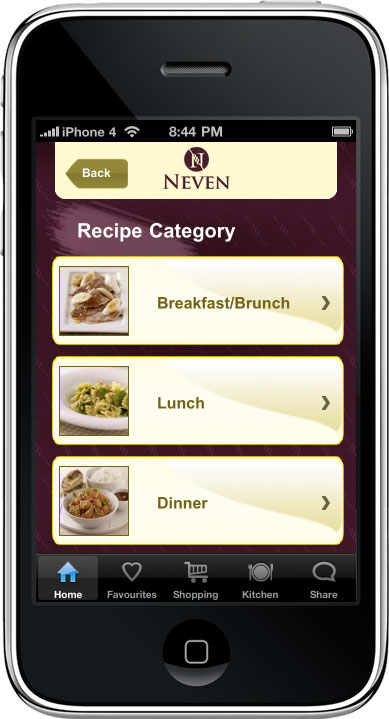 There is also an additional section that has 8 recipes for stocks, sauces and other miscellaneous recipes. Broken down into straightforward categories such as Breakfast/Brunch, Lunch, Dinner, Snacks/Party Foods and Desserts there is something for everyone. All recipes are in Neven's familiar user-friendly style that is suitable for all home cooks.
The innovative ingredients page on each recipe allows users to amend the number of people they wish to feed and the quantity of ingredients will automatically change too! Beautiful full colour photography showing recipes off at their very best. Eleven of the recipes carry a full length video for users to download* from Neven's television series with Neven cooking and guiding viewers through the recipe from beginning to end.
An advanced shopping list functionality allows users to easily plan what they want to cook, to set up a shopping list and to email it or text it as they wish (sorted by shopping aisle, recipe or alphabetically) to themselves, partners or a friend ensuring that minds are made up easily with respect to what to cook and that no ingredients are forgotten.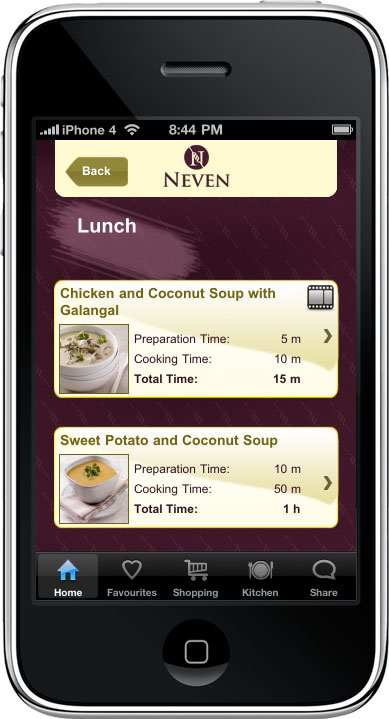 iCook with Neven has fully embraced the world of Social Media and allows users to post comments, photos or videos to their Facebook or Twitter account and to Neven?s at the same time. Ensuring that friends, family and of course Neven can see the fruits of your labour ad congratulate you on your efforts.
In the Kitchen section Neven guides users through the ingredients and utensils that you would find in his kitchen, offers advice with respect to the dos and dont's of stocking your fridge, freezer and larder and discusses the utensils that are available today and should be in every aspiring Home Chef's kitchen.
Features:
- 60 user-friendly recipes for all occasions across 5 categories
- 8 additional recipes in Stocks, Sauces & Miscellaneous section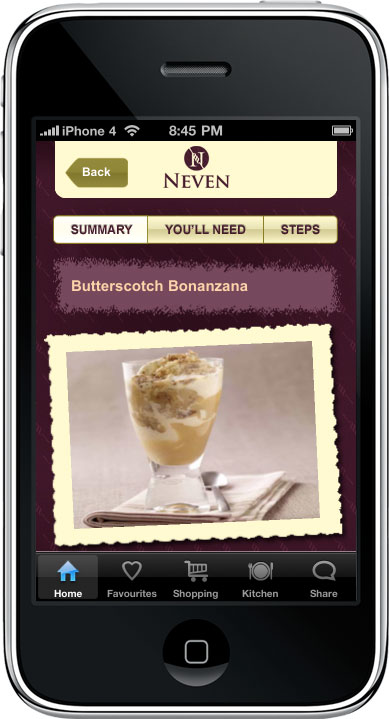 - Attractive & user-friendly design Introductory video plus 11 recipes have full video available to download* Mouthwatering photography throughout
- Full integration with Social Media - share a message, photo and/or video of each meal you cook with your friends and Neven via Facebook or Twitter
- Add recipes as Favourites for easy reference every time, or see recent recipe views in the "Recently Viewed" section
- "Might Also Like" functionality will help you out if you found a recipe you like and would like suggestions of similar recipes
- Recipe ingredients - amend the number of people you want to cook for and the required ingredients will change automatically
- Shopping List - full shopping list functionality - add all ingredients and/or required Utensils from recipes at the touch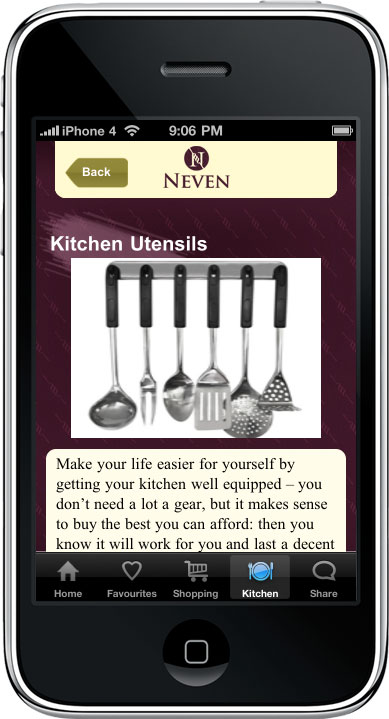 of a button, or add them individually. Then you can edit shopping list manually as required (add or delete items) Shopping List can be sorted by Aisle to make shopping easier, or sort by recipe or alphabetically then email or text the shopping list as required
- Kitchen - Neven guides users through the dos and dont's of stocking your kitchen and recommends what ingredients you should have to hand (with full descriptions and photographs)
- Switch between Metric and Imperial measurements on recipes and shopping list at the touch of a button
* Video downloads require wifi connection, download once and then view as often as you like without a connection

€4.99 (ex. VAT) * (free p&p in Ireland)