For the Love of Food - Kevin Dundon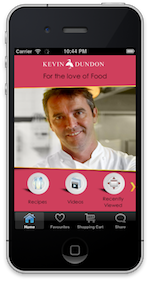 Click here to view the "For the Love of Food" by Kevin Dundon App for iPhone, iPad & iPod Touch
A personal chef is just the answer to all our cooking dilemmas. Well, now you can have the next best thing by using this app to cook with tv chef Kevin Dundon in your own kitchen!
Whether you're looking for inspiration for day-to-day cooking or planning a special dinner party that's sure to wow your guests Kevin provides ideas and recipes for all occasions.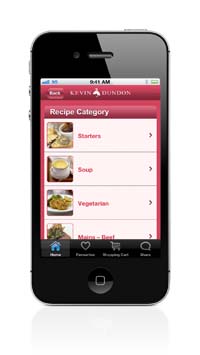 Browse the collections to select user-friendly, mouth watering dishes and each time you will find Kevin's clear concise directions will guarantee fool-proof, stress-free cooking.
Family favourites, Special Occasions, BBQs, Foods to romance, foods to feed the soul...it's all covered here in "For the Love of Food by Kevin Dundon" which is bursting not only with recipes great features too!
Features:
- 63 user-friendly recipes for all occasions across 9 categories with updates with more recipes coming every few months
- 15 additional recipes in Larder section
- "Shake & Try" - feeling indecisive? Then shake your phone when on the home page of the app and allow Kevin to pick a recipe for you to try!
- Attractive & user-friendly design
- Introductory video plus 30 recipes have video available to download
- Full integration with Social Media – share a message, photo and/or video of each meal you cook with your friends and Kevin via Facebook or Twitter
- Add recipes as Favourites for easy reference every time, or see recent recipe views in the "Recently Viewed" section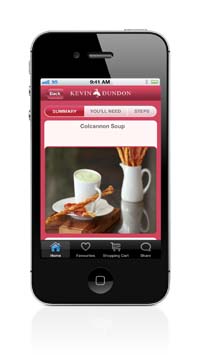 - "Might Also Like" functionality will help you out if you found a recipe you like and would like suggestions of similar recipes
- Recipe ingredients – amend the number of people you want to cook for and the required ingredients will change automatically
- Shopping List – full shopping list functionality – add all ingredients and/or required Utensils from recipes at the touch of a button. You can also edit your shopping list manually as required (add or delete items)
- Shopping List can be sorted by Aisle to make shopping easier, or sort by recipe or alphabetically then send out the shopping list by email or SMS text as required
- Switch between Metric and Imperial measurements on recipes and shopping list at the touch of a button
Click here to view the "For the Love of Food" by Kevin Dundon App for iPhone, iPad & iPod Touch

€4.99 (ex. VAT) * (free p&p in Ireland)