Spring Breaks at Renvyle House Hotel - Co Galway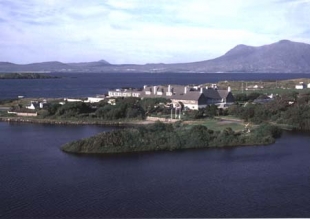 A wonderful place to visit at any age or any time, Renvyle House appeals to people with a yen for the rugged west of Ireland - and a love of the cosy contrasts you find indoors, where a snug conservatory provides an all-weather vantage point to admire the view, and dark beams, rug strewn floors and open fires cast their spell.

It's a place that it's easy to fall in love with, and a happy destination for families (and the dog). There is loads to do but, unlike many hotels catering for the family market, the focus is less on organised activities (there is a heated outdoor swimming pool in summer, but don't expect a leisure centre – less still a spa) and more on the old fashioned pleasures of doing things together – or doing nothing very much at all – with plenty for older children who want to have a go at lots of things.

Very good child facilities include a nice traditional playground and a crèche in summer - and, to ensure that parents are able to make the most of Tim O'Sullivan's excellent food, the large dining room is cannily organised with a window along one side where parents can see their children in the supervised playroom next door, but typical of GM Ronnie Counihan's very special management style, there's no big deal made about the family facilities, they're just a part of what this wonderful place is.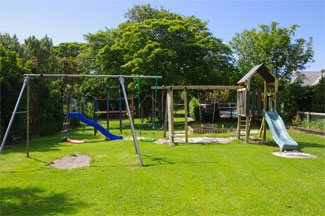 FREE ACTIVITIES ALL YEAR......

• 9-hole (par 3) golf course
• Outdoor heated swimming pool (May - September)
• Outdoor Canadian hot tub
• Infrared sauna
• Canoeing and Boating on private lake
• Fly-fishing on private lake
• Sea angling on beach shoreline
• All weather tennis courts
• Croquet
• Lawn bowls & boules
• Woodlands and gardens

For our younger guests:
• Feeding the ducks and geese after breakfast
• Buckets and nets to explore the rock pools at the back door!
• Children's playground

SPRING 2013 MAGIC MIDWEEK BREAKS (Sundays to Thursdays inclusive)
2B&B 1D
3B&B 2D
5B&B 4D
Family Break 3B&B 2D*
2 adults & 2 kids
FEBRUARY 17th & 24th
€139pp
€229pp
€395pp
€599*
MARCH 3rd,10th & 17th
€139pp
€229pp
€395pp
€599*
MARCH 24th
€149pp
€239pp
€425pp
€625*
APRIL 7th, 14th, 21st & 28th
€149pp
€239pp
€425pp
€625*
MAY 6th, 12th, 19th & 26th
€159pp
€255pp
€449pp
€649*

*2 adults & 2 children sharing accommodation (Adults: 3B&B 2D Children 3B&B 3 evening meals)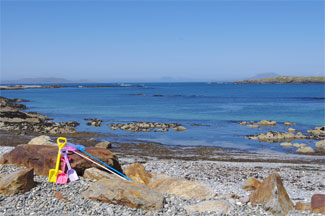 MAY BANK HOLIDAY WEEKEND:
Commencing Saturday 4th
2B&B 1D €264pp
ACTIVITY WEEKEND BREAKS

PAINTING BREAK - Commencing Sunday 19th May
Painter and teacher John Hoar will teach you the art of painting over the course of the week. What to bring: Watercolours*; brushes- I recommend at least one large brush and one 'rigger'; watercolour paper- Bockingford or Arches (140lb) or similar, and an easel. And perhaps Wellington boots. * preferably Winsor and Newton, artist's quality or Cotman - including Raw Sienna, Burnt Umber, Light Red and Winsor Blue (red shade, artist's quality only).
Price:
2 Nights, Bed & Breakfast & 1 dinner, 2 days tuition (weather permitting) €179.00pp
3 Nights, Bed & Breakfast & 2 dinners, 3 days tuition and a field trip (weather permitting) €285.00pp
5 Nights Bed & Breakfast, 4 Dinners, 4 days tuition and a field trip (weather permitting) €499.00pp

Click here to enquire

Or call +353 (0) 95 43511

Please quote "Georgina Campbell's Ireland Guide" when enquiring or booking.

In one of the country's most appealingly remote and beautiful areas, this famous Lutyens-esque house has a romantic and fascinating history, having been home to people as diverse as a Gaelic chieftain and Oliver St John Gogarty - and it became on ...
more...
Show Me All Special Offers