10 of the Best Food Pubs in Ireland's Top Ten Holiday Destinations
No surprise that Kerry came top of a recent survey polling favourite counties for Irish holidays - sure wasn't Queen Victoria herself a fan? August is a time for casual dining - out of doors if you're lucky - so this month we've picked some great summer pubs to enjoy in the top ten 'staycation' counties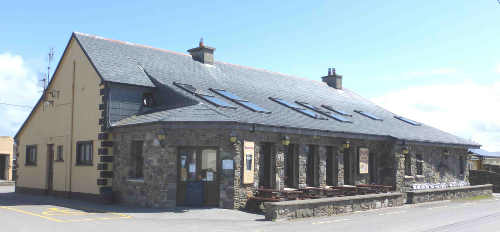 KERRY Spillanes
Maharees, Castlegregory, near Tralee
It's a long way down from the main road to reach the Maharees, but many would make the journey to this away-from-it-all holiday destination just for a visit to Marilyn and Michael Spillane's great traditional pub – it's been in the family since 1875 and they work hard at both the food and hospitality, earning a loyal following. Wide ranging menu - ideal for families in from the beach.
GALWAY O'Dowd's Bar & Restaurant
Roundstone, Connemara, Co Galway
Overlooking harbour, sea and mountains, the O'Dowd family's much-loved pub remains one of those simple places, with the comfort of an open fire and a good pint, where people congregate in total relaxation - spilling out to sit on the low stone wall in the busy summer months. Nick O'Dowd is a quietly caring host, and the food is good. A reasonably priced bar menu majors in seafood or, for more formal meals, the restaurant next door does the honours: either way, the seafood chowder is ace.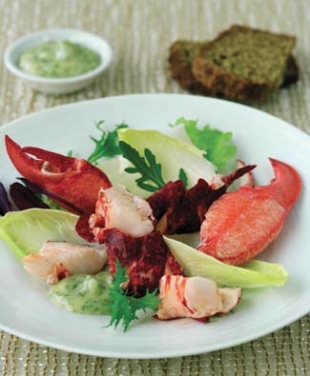 CORK Mary Ann's Bar & Restaurant
Castletownshend Skibbereen Co Cork
Dating back to 1846, this famous pub in the quietly picturesque seaside village of Castletownshend has been in the energetic and hospitable ownership of Fergus and Patricia O'Mahony since 1988; they have loved it and maintained it well - and have built up a great reputation for food in both the bar and the restaurant. Seafood is the star, of course, with house specialities including a magnificent Platter of Castlehaven Bay Shellfish and Seafood and lovely home-baked brown bread. A unique dstination.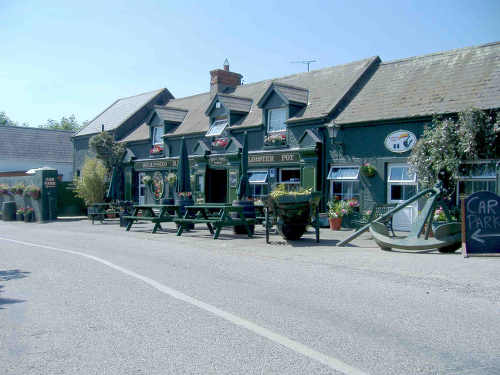 WEXFORD The Lobster Pot
Carne, Co Wexford
Friendly service, a relaxing atmosphere and carefully prepared fresh food promise an enjoyable visit to Ciaran and Anne Hearne's handsome country pub. Local seafood is the speciality, with daily deliveries ensuring fresh fish supplies. The catch dictates daily specials and simple but carefully prepared meals are served all day in the bar (where families are welcome during the day), along with an extensive evening menu - and good value too. Don't miss the house chowder.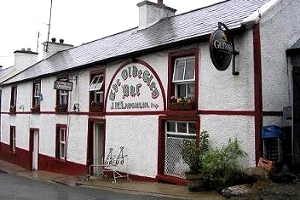 DONEGAL The Olde Glen Bar
Glen, near Carrigart, Co Donegal
Just the sort of old pub advertising people dream about, this charming bar looks as it must have done a hundred, maybe two hundred years ago. Low ceilings, ancient weathered bar and furniture, fires in winter, a big old room and then another behind - and a great reputation for its good food in the restaurant at the back, as well as craic in the bar.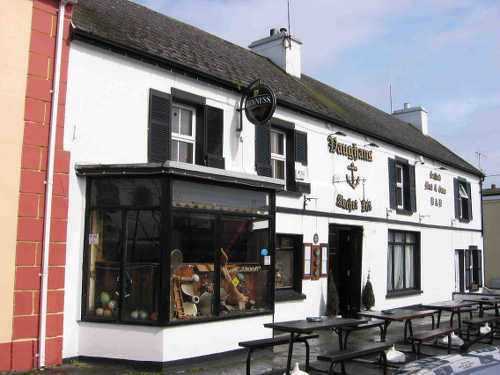 CLARE Vaughans Anchor Inn
Main Street, Liscannor, Co Clare
The Vaughan family's traditional bar on the Cliffs of Moher route has great character, with open fires and lots of memorabilia. Although famed for their seafood platters (and they are fantastic - and great value too), there's much more to the menu than that: Denis Vaughan is an exceptionally talented and creative chef and uses as much local produce as possible. And everything really is fresh - the menu may even be changed in mid-stream because there's something new coming up off the boats.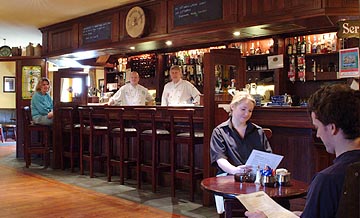 MAYO The Tavern Bar & Restaurant
Murrisk, near Westport Co Mayo
Myles and Ruth O'Brien have been running this fine bar and restaurant just outside Westport, at the foot of Croagh Patrick, since 1999 and have built up an enviable reputation for their hospitality - and Myles's good cooking, which showcases the best of local foods. Bar menus are extensive and the evening restaurant upstairs offers very attractive menus with local seafood from Clew Bay the speciality. Well-informed staff, who are nearly all local, are welcoming and know the menu and the nightly specials.
DUBLIN L Mulligan Grocer
Stoneybatter Dublin 7
One of Dublin's favourite destinations for food lovers, an old grocers shop was converted by owners Michael Fogarty, Colin Hession and Seaneen Sullivan into a quirky gastropub with lovely character. Over 150 whisk(e)ys and a selection of Irish craft beers complement the artisan-inspired food, so even if you don't have so much as a bite to eat, a visit here would be well worth a small detour just to absorb the atmosphere and enjoy a drink. Friendly staff know their food and drink and this big-hearted place is hugely popular.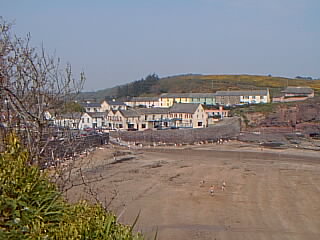 WATERFORD Strand Inn
Dunmore East Co Waterford
Dating back to 1750 this beachside inn has recently been modernised by owners Clifden and Louise Foyle who run it with Clifden's mother, Edwina. Food is served in the bar, which was always the heart of the inn, and also in The Strand Seafood Restaurant, where concessions for non-seafood eaters include steaks and vegetarian options. It's been a local seafood destination 'for ever' and visitors just love it for the location - and the food.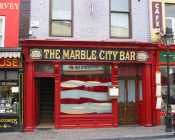 KILKENNY Marble City Bar
6 High Street Kilkenny Co Kilkenny
The Langton family (of Langton House Hotel) had this historic bar re-designed some years ago by the internationally acclaimed designer, David Collins and, although initially controversial (especially the ultra-modern stained glass window which now graces an otherwise traditional frontage), it is a wonderful space to be in and attracts a varied clientèle. Visitors love the vibrant atmosphere and the local ingredients-led contemporary bar food. Downstairs, the Marble City Tea Rooms offers lighter fare.

Best places to Eat for...