BESIDE THE SEA - TEN OF THE BEST
You can't beat the enjoyment of a bracing walk along a sandy beach before breakfast, or the pleasure of a sea view from our dining table for that away-from-it-all feeling when on holiday. We all love to stay and eat beside the sea...


Gorman's Clifftop House
Ballydavid, near Dingle, Co Kerry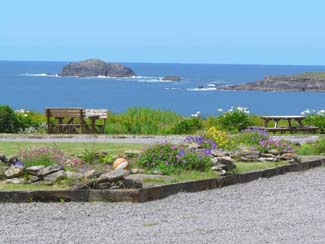 Dingle is a fantastic all-year destination for lovers of the outdoor life, good food, and music – and, unless you want to be right in the town, the place to be is Sile and Vincent Gorman's well-named guesthouse and restaurant Clifftop House, which is beautifully situated near Smerwick Harbour on the Slea Head scenic drive and Dingle Way walking route. It is, as they say themselves, "just a great place to relax and unwind". And a very comfortable place it is to do this too: the atmosphere is welcoming and laid-back, with open fires, comfy sofas and armchairs newspapers and books in two generous lounging areas. Vincent Gorman is the chef and the restaurant – which is open to non-residents - commandssuperb sea views and, on fine evenings, spectacular sunsets; this is a wonderful place to enjoy delicious home-cooked dinners notable for local fish. Excellent breakfasts are served in this magnificent setting too, setting you up handsomely for a day in the fresh air.


Castlemurray House Hotel
St. John's Point Dunkineely Co Donegal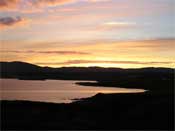 Martin and Marguerite Howley's beautifully located clifftop hotel 20 km from Donegal Town on the coast road to St John's Point has wonderful sea views over the ruined castle after which it is named. With a cosy little bar, a residents' sitting room and bedrooms that have all been redesigned recently, it's a comfortable and relaxing place to stay, and there's no shortage of opportunity to enjoy the great outdoors nearby. The restaurant – known for its local seafood in summer, with more red meats, poultry and game off-season - is on the seaward corner of the hotel overlooking the sea and the castle (which is floodlit at night), and an open fire makes for real warmth in this dramatic location, even on chilly evenings. Lovely breakfasts are served in the restaurant, and there's an appealing bar menu too.

Rathmullan House
Rathmullan Co Donegal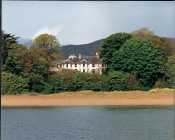 Quietly situated on the shores of Lough Swilly, the Wheeler family's gracious nineteenth century house is fairly grand, but it's not too formal - and there's an atmospheric cellar bar, The Tap Room, which serves great pizzas and craft beers and also has outdoor tables. Bedrooms are comfortably furnished in traditional country house style, and ten especially desirable, individually decorated newer bedrooms include a pet-friendly room with a special couch for your pooch. Donegal in general and Rathmullan House in particular (winner of several of our Awards, including Country House of the Year) offer laid-back charm and a special sense of place - and you can look forward to outstanding upbeat traditional food based on the very best of local and artisan foods too, in the aptly named Cook & Gardener Restaurant and The Tap Room. Much of the produce comes from their own beautiful organic walled garden, which deserves a special visit. The Children's Menu is a special feature too - a proper little person's version of the adult menu – and their breakfasts are renowned.


Inis Meain Restaurant & Suites
Inis Meain Aran Islands Co Galway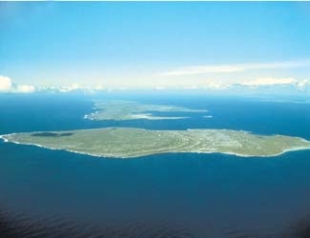 Ruairi and Marie-Thérèse de Blacam's stunning contemporary restaurant on Inis Meain is on the most tranquil and least visited island of the Aran group and was our Newcomer of the Year in 2008. Old traditions of farming, sport, and music are a large part of daily life here, and the de Blacams are true to the spirit of the island in every way. The building itself, although modern, is a hymn to local materials and blends into the surrounding limestone landscape; the food is mainly sourced on the island – including lobster and crab are caught by fishermen who use the local currachs - and an increasing amount is produced by the couple themselves. Guests love the simplicity of the accommodation, where fishing rods, bicycles and books of interest are provided instead of TV, to help guests discover the peace and quiet of the island. It's unique experience - the only problem is getting a room, as it is very popular and booked well in advance, but the restaurant is also open to non residents.



Renvyle House Hotel
Renvyle Connemara Co Galway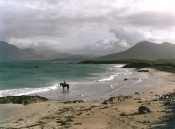 This wonderfully remote and romantic Lutyens-esque house has a fascinating history and is set in magnificently rugged scenery; once reached, the hotel seems to be snuggling down for shelter and, with its dark beams, rug strewn floors, has a cosy atmosphere - and a snug conservatory where guests can contemplate the healthy outdoor activity on site (trout fishing, a 9 hole golf course…) and the archaeological expeditions, horse riding, hill walking, scuba diving and sea fishing which are all on offer nearby. Head chef Tim O'Sullivan's excellent food (in both bar and restaurant) features Connemara produce.... All this, plus the scent of a turf fire and a comfortable armchair, can be magic.


Aldridge Lodge
Duncannon New Ross Co Wexford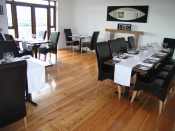 Highly-regarded Euro-Toques chef Billy Whitty and his partner Joanne Harding run their modern stone fronted dormer home as a restaurant with rooms; overlooking the picturesque fishing village of Duncannon, with lovely views of the beach and mountains, there's a cosy seating area and Billy's fine training shows through in the many delightful dishes on dinner menus which are changed daily. Local produce is very much the star here, especially seafood, and, alongside the many other trusted suppliers listed, you will find several members of his family: the Duncannon crab and lobster are supplied by Billy's father, Tommy; free range pork is supplied by his sister, Wendy, and her husband Scott; and Billy and Joanne produce their own vegetables as much as possible, in their garden and poyltunnel. Food doesn't get much more local than that, and you can buy their homemade breads to take home. The four well-appointed bedrooms are quiet and comfortable too - this can be a hard place to leave. (Aldridge Lodge was our Newcomer of the Year in 2006).


The Herons Rest B&B
Longwalk Spanish Arch Galway City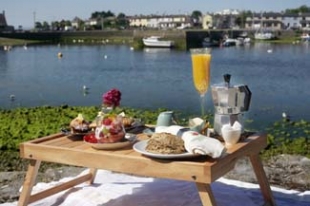 There can't be a better location in the whole of Galway city than Sorcha Molloy's delightful B&B - right in the centre, just seaward of Spanish Arch, it has everything within easy walking distance, yet is quietly situated with views across the river and out to sea. And the name of this charming house is far from fanciful – as likely as not you'll find a visiting heron sitting on a car roof at the door… The sweet waterside rooms have had lots of TLC lavished on them, and there is care in everything Sorcha does, right down to the choice of natural toiletries and environmentally friendly cleaning and laundry products. Nothing is too much trouble for Sorcha when thinking of the comfort of her guests and how they might best be helped to get every ounce of enjoyment from their visit. She offers an extensive choice of delicious things for breakfast, and although there are no evening meals, afternoon tea and gourmet picnic baskets are both available on request – and most of the city's top restaurants are within a short walk.


Jack's Coastguard Restaurant
Waters Edge Cromane Killorglin Co Kerry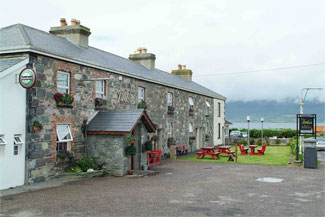 If you turn off the Ring of Kerry road when you see the sign to Cromane, where the famous mussels are landed, you'll find this handsome, smartly maintained stone building shortly before the quay. It sends out all the right signals from the outset, with an inviting traditional bar leading through to a bright and well-proportioned dining room promisingly set up with crisp white linen and gleaming glasses. Head chef Jonathan Keary offers a superb range of seafood, including Cromane mussels, of course… It's well worth building a visit to Jack's into your plans when you're the area - but booking is strongly advised, especially at weekends. And be prepared for Dublin prices.
Mulranny Park Hotel
Mulranny, Co Mayo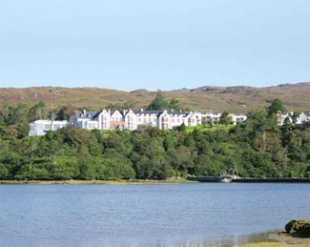 This landmark hotel, originally built by the Midland Great Western Railways, first opened for business in March 1897 and it became a famous destination during the lifetime of the railway between Westport and Achill Island. The disused railwayhas taken on a new lease of life since the opening of the Great Western Greenway walking and cycling route - and the Gourmet Greenway food trail, which the hotel has developed in association with a number of Mayo food producers, to showcase the wonderful artisan food in the vicinities of Mulranny, Newport, Westport and Achill. And its reputation for food that reflects the character of the area brings guests from far and wide to enjoy excellent cooking in the elegant seaview dining room, overlooking the Atlantic.

The Salty Dog Hotel & Bistro
Bangor, Co Down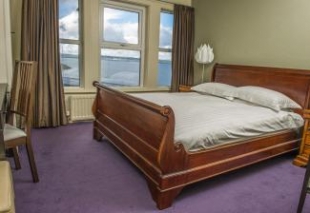 Kenneth Sharp's boutique hotel is in a choice corner location overlooking Belfast Lough and Bangor Marina. Although dating back to Victorian times, it offers contemporary style - together with the hands-on hospitality that is not easy to find in larger establishments. It's a pleasant place to stay and not only handy to the town but also within an easy waterside stroll of the attractive Ballyholme area of Bangor, where there's a pleasant promenade and a beach leading on to the National Trust coastal walk at Ballymacormick Point. Good food has always been at the heart of the Salty Dog experience - a seriously good breakfast is served in the bar, overlooking the marina, and there's an emphasis on fine cooking rather than fine dining in the restaurant, where the dining experience is very relaxed and window tables have views of Belfast Lough. Seasonal local produce is very much to the fore and this is a highly enjoyable place to eat.

Best places to Eat for...