FISHING BREAKS - TEN OF THE BEST
What better way to spend a few days away in some of Ireland's most stunning landcsapes than a short break at one of our famous fishing hotels? And, by a happy chance, they are all lovely places for non-fishing partners to visit too….
Ashford Castle Hotel
Cong, Co Mayo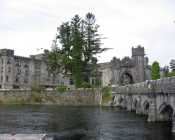 Just half an hour from Galway City, Ireland's grandest castle hotel is stunningly located on the northern shore of Ireland's second largest lake, Lough Corrib, where salmon and wild brown trout fishing is available. Although it has been an hotel since 1939 - and recently came into new ownership, when bought by the Tollman family's Red Carnation Hotels in 2013 - it was previously the country estate of Lord Ardilaun and the Guinness family, and Ashford Castle's exceptional amenities still include a full range of country sports (fishing, falconry, equestrian, archery, clay pigeon shooting, cycling…). The castle is set in 350 acres of beautiful parkland, and grandeur, formality and tranquillity remain the essential characteristics despite the extensive renovations and improvements recently undertaken by the Tollmans. A succession of impressive public rooms with panelled walls, oil paintings, balustrades, suits of armour and magnificent fireplaces illustrate a proud history that goes back to the early 13th century and many of the luxuriously appointed guest rooms have magnificent views of Lough Corrib, the River Cong and wooded parkland. The atmosphere has lightened up in recent years - greatly helped by the new dog-friendly policy, which adds great charm - but this is still a formal place by today's standards, and General Manager Niall Rochford oversees a caring staff who take pride in providing old-fashioned standards of service. And you will dine very well here too, with the highly regarded chef Philippe 'Irish Produce French Heart' Farineau having taken up the position of Executive Head Chef in 2015. An accomplished and creative chef who takes local provenance very seriously, he is responsible for all food served at the Castle, including the formal Georges V Dining Room, Afternoon Tea in the Connaught Room, Cullen's at the Cottage - an informal option in the grounds - and the recently introduced and atmospheric Cullen's at the Dungeon.


Newport House
Newport, Co Mayo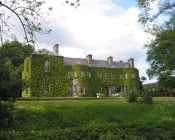 Newport House has been especially close to the hearts of fishing people for many years - the fishing rights on the Newport River, and on Lough Beltra West belong to it – and is also convenient to loughs Mask and Conn. The day's catch is weighed and displayed in the hall, and the fisherman's bar provides the perfect venue for a reconstruction of the day's sport. But, although fishing is at its heart, this wonderful house is perhaps best known for its comfort and warm hospitality, and the present owner, Kieran Thompson, ensures that it is equally accessible to all their guests – not least in shared enjoyment of the club-fender cosiness of the little back bar. The house has a beautiful central hall, sweeping staircase and gracious drawing room, while the eighteen bedrooms are furnished in style with antiques and fine paintings. The restaurant – which is open to non-residents by reservation - is all that a country house dining room should be, with tall windows, mahogany furniture and fresh flowers from the garden. John Gavin, who has been head chef since 1983 and is one of Ireland's quietest food heroes, takes pride in using home-produced and local foods for "cooking which reflects the hospitable nature of the house". Wild salmon from the house smoking room is a particular speciality (prepared to a secret recipe...) and also wild gravadlax, with dill and mustard sauce. Fresh fish is, of course, a speciality – not only freshwater fish, but also sea fish delivered daily from nearby Achill Island – meats from the excellent local butcher, and the freshest of produce from their own walled garden appears regularly in soups, salads, delicious desserts. And then there is Kieran's renowned wine list that, for many, adds an extra magic to a meal at Newport; great wines are a great passion for him and, while acknowledging that they are irreplaceable, he offers them to guests at far less than their current retail value.


Enniscoe House
Castlehill, Crossmolina, Ballina, Co Mayo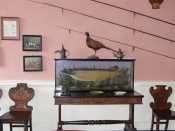 Set in parkland and mature woods on the shores of Lough Conn, "the last great house of North Mayo" dates back to the 1660s, when it was built by ancestors of the present owner, Susan Kellett. Today Enniscoe attracts anglers and visitors with a natural empathy for the untamed wildness of this unspoilt - and still surprisingly little known – area. There is brown trout fishing on Lough Conn and other trout and salmon fishing nearby; boats, ghillies, tuition and hire of equipment can be arranged. The house has great charm and makes a lovely place to come back to after a day's fishing or exploring the rugged countryside: family portraits, antique furniture and crackling log fires all complement Susan's warm hospitality and deliciously simple, wholesome dinners are based on home-grown organics and local produce. Non fishing partners will find plenty to do, as there are beautiful woodland walks and restored walled gardens, which are open to the public and have tea-rooms and a Heritage Shop, stocking quality "non-tourist" items, collectables, and some garden plants. In the old farm buildings there's a genealogy centre, The Mayo North Family History Research Centre (096 31809), an agricultural museum displaying old farm machinery and rural artefacts, and even a blacksmith who works on the restoration of machinery that has been donated. There's also a working run of an old bog railway in the grounds, golf (three courses within easy reach) and equestrian nearby. Self-catering units also available.


Ballynahinch Castle
Recess, Co Galway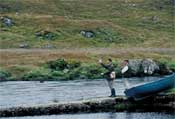 Renowned as a fishing hotel, this crenellated Victorian mansion enjoys a most romantic position in 450 acres of ancient woodland and gardens on the banks of the Ballynahinch River. As the road runs parallell to it, access to the river is unusually straightforward, and the Ballynahinch Fishery also extends through Loughs Inagh, Derryclare and Ballynahinch. Famous for both salmon and sea trout, the hotel and fishery can hire everything required, and tuition is available at certain times (details from the hotel). The hotel is impressive in scale yet relaxed in atmosphere - a magic combination which, together with a high level of comfort and friendliness (and an invigorating mixture of residents and locals in the bar at night), all combine to bring people back. The tone is set in the foyer, with its huge stone fireplace and ever-burning log fire and many of the (very comfortable) rooms have lovely views over the river. Excellent meals are served in both the Owenmore Restaurant (a bright and elegant room for evening meals, organised to allow as many tables as possible to enjoy its uniquely beautiful river setting) and the mighty high-ceilinged bar, which has a huge fireplace, and many mementoes of the pleasures of rod and hunt – and is a good place to drop into for lunch when touring Connemara. A fishing break here will be memorable – and, for non-fishing partners, a stay here is sure to be a restorative treat.


Lough Inagh Lodge
Recess, Co Galway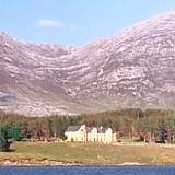 Maire O'Connor's former sporting lodge on the shores of Lough Inagh makes a delightful small hotel with a country house atmosphere. The Fishery, which is at the top of the Ballynahinch system and comprises Loughs Inagh and Derryclare, is known for its spring salmon fishing (beginning in April) and sea trout in summer. The lodge has large, well-proportioned rooms, interesting period detail and lovely fireplaces with welcoming log fires, plus all the modern comforts. Public areas include two drawing rooms, each with an open fire; the Finisglen Room - a handsome dining room with deep green walls and graceful spoonback Victorian mahogany chairs (non-residents welcome by reservation) - and a very appealing bar with a big turf fire and its own back door and tiled floor for wet fishing gear. A high standard of food is maintained in both bar and restaurant. Bedrooms, some with four-posters, have views of lake and countryside and all are well-appointed and unusually spacious, with walk-in dressing rooms leading to well-planned bathrooms. While it has special appeal to sportsmen, Lough Inagh is only 42 miles from Galway and makes a good base for touring Connemara. While fishing is the big draw, golf, pony trekking and garden visits are all nearby. Off-season breaks offer especially good value.


Delphi Lodge
Leenane, Co Galway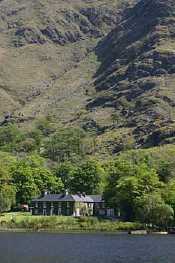 One of Ireland's most famous sporting lodges (and our Country House of the Year in 2006), Delphi Lodge was built in the early 19th-century by the Marquis of Sligo and is beautifully located in an unspoilt valley, surrounded by the region's highest mountains (with the high rainfall so dear to fisherfolk. The lodge is large and impressive in an informal, understated way, with antiques, fishing gear and a catholic selection of reading matter creating a stylish yet relaxed atmosphere and, in recent decades, the original building has been restored and extended in period style. The famous Delphi Fishery - a river and lake system offering a variety of scenery and opportunity- is the main attraction, but many people come for other country pursuits, painting, or just peace and quiet - non fishing partners will have a rare opportunity for real peace and relaxation. The dozen guest rooms all have lovely lake and mountain views, good bathrooms, and are very comfortably furnished. Dinner is for residents only, taken house-party style at a long oak table - traditionally presided over by the person lucky enough to catch the day's biggest salmon. After dinner there is a fine collection of books and much else of interest in the Piano Room to keep you from your bed. A billiard table, the library and a serious wine list (great bottles at a very modest mark-up) can get visitors through a lot of wet days. Fly fishing tuition courses are held at weekends several times a year. Five restored cottages close to the lodge offer self-catering accommodation


Mount Juliet
Thomastown, Co Kilkenny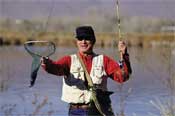 Lying amidst 1500 acres of unspoilt woodland, pasture and formal gardens, Mount Juliet is one of Europe's greatest country estates, with world class sporting amenities that include salmon and brown trout fishing on the River Nore and its tributary, The King's River. Mount Juliet House was built over 200 years ago by the Earl of Carrick, and named in honour of his wife - it is one of Ireland's finest Georgian houses and, even today, retains an aura of eighteenth century grandeur - but its formality is offset by a warm, gently feminine tone that is unique among the Great Houses. Guest rooms have period decor with all the comfort of modern facilities and, as well as the main house, additional rooms on the estate are in The Club, and The Rose Garden two-bedroom lodges. Dining is taken seriously at Mount Juliet - in both the graceful high-ceilinged Lady Helen Dining Room in the old house, where you will find fine dining at its best, and the smart but less formal contemporary restaurant Kendals, in Hunters Yard - and it is hard to imagine a place with more to offer the non fishing partner: there's the top-ranking Jack Nicklaus-designed golf course for a start, a magnificent Spa & Health Club and many other activities including: equestrian; angling; clay pigeon shooting; archery; tennis; croquet; cycling and walking trails. Sheer heaven. Open all year.


Ballyvolane House
Fermoy, Co Cork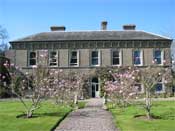 The Green family's gracious mansion near Fermoy is surrounded by its own farmland, magnificent wooded grounds and formal terraced gardens There is private salmon fishing on 8km of the renowned River Blackwater, with a wide variety of spring and summer beats, all carefully managed and well maintained – and, should river fishing disappoint for any reason, there is also a recently restored trout lake in the grounds. This lovely house dates from 1728 with mid-19th century modifications; elegant and extremely comfortable, it has big log fires and very roomy bedrooms which, like the rest of the house, are furnished with family antiques and look out over attractive gardens and grounds. Delicious food has always been high point at Ballyvolane, where modern Irish dinners based on the very best of local and home-produced foods are served in style around a long mahogany table. There is much of interest for non-fishing partners, both on site (the gardens are outstanding) and in the area - the beautiful Blackwater Valley is well worth exploring, with its many gardens (including Lismore Castle Gardens) and historic sites, the Rock of Cashel and Waterford all among the many interesting places which can easily be visited nearby.


Longueville House
Mallow, Co Cork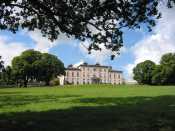 The O'Callaghan family's home is one of Ireland's finest country house hotels, with a history stretching way back to the Cromwellian Confiscation (1652-57). The present house, which is superbly comfortable and stylishly decorated to the highest standards, dates from 1720 and its location – overlooking the ruins of their original home, Dromineen Castle, and that great Munster fishing river, the Blackwater - is lovely. The river, farm and garden supply fresh salmon in season, the famous Longueville lamb, all the fruit and vegetables – and their abundant apple supply provides fresh juice, Longueville House Cider, and Apple Bandy too. The Longueville House Fishery is a beautiful two-miles stretch of the Blackwater meandering through the estate, parallel with the road. There are seven beats, with fly fishing for salmon the main attraction (although spinning and bait fishing are allowed) and also fishing for wild brown trout (wet/dry fly depending on the season). Ghillies, who also provide tuition, need to be booked in advance. William is a high profile chef and dining here is a treat - and breakfast is also very special, offering a wonderful array of local and home-cooked foods, both from the buffet and cooked to order. It's a lovely place to stay and with plenty for non-fishing partners to do too, both on site and nearby – Cork city, Kinsale, and even Kenmare and Killarney are all within an easy drive.


Mount Falcon Country House Hotel & Spa
Ballina, Co Mayo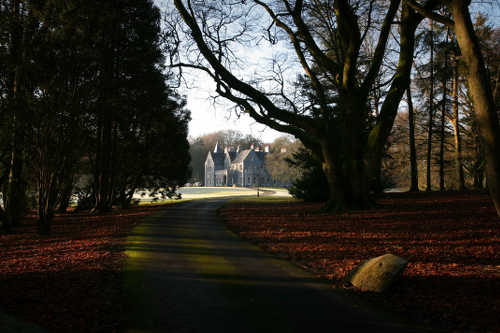 Once a romantic family home, Mount Falcon is now a luxury hotel with beautiful period features, extensive grounds with productive kitchen gardens and self catering lodges, and exciting fine dining in a beautiful room that was once the old kitchen and pantry of this historic house. It also offers private fishing on Ireland's most prolific salmon river, the Moy, which runs through the estate. Mount Falcon owns the fishing rights on a 2 mile double bank stretch just a few miles above the tide and anglers are encouraged to 'Catch and Cook', so they can enjoy their catches for dinner. The fishing is run exclusively for guests staying at the hotel and lodges, so there is no overcrowding. In addition, within an hour's drive, fishing guests can enjoy a number of other prolific spate river fisheries and also lakes where you can cast a fly for spring salmon, summer salmon and grilse. The hotel offers fishing packages such as the 4-night '3 Rivers Fly Fishing Package' including The Owenduff, The Erriff, Moy (Mount Falcon/Moy Fishery beats), and Beltra and Carramore lakes, and the '3 Loughs Package' (one day each on Lough Mask, Lough Conn, and Lough Carra). Sea trout is also available in the area, mainly in the Moy Estuary, and a 3 acre spring fed lake on the estate offers all year fly fishing for "hard fighting rainbow trout". The estate Fishery Manager, Stuart Price, can provide more information.
Best places to Stay for...