FOR KIDS - TEN OF THE BEST
Not quite decided on your holiday plans yet? Consider the simplicity, relaxation and - if chosen wisely - better value, that airport-free home holidays offer. Parents holidaying with their kids will find there is plenty to choose from in many of the most beautiful and interesting areas of Ireland, and you'll be made especially welcome this year.

Westport Woods Hotel NORTH-WEST
Westport County Mayo Ireland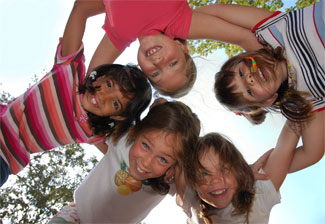 With their leisure centres and other all-weather activities, the best family-friendly hotels are a very good option indeed and Westport Woods was selected as our Family-Friendly Hotel of the Year for 2012. From the moment guests enter the bright reception area of this eco-friendly, activity-focused 1960s hotel in the scenic North-West, it's obvious that there's someone who cares at the helm. The décor may not be especially impressive, but attentive and genuinely interested staff are the great strength of this hotel - and the affable, hands-on owner manager seems to be everywhere, and is equally happy enthusing guests about the area's historical sights as fixing the hotel's wood pellet burner, or leading toddler guests round on ponies at his nearby riding stables. Also well known for its special interest breaks, Westport Woods Hotel is a great family destination: the simple bonus of providing a complimentary "go!kids!" Club to entertain all ages from little ones to teens at arts and crafts, pony riding and disco-dancing while parents enjoy adult time makes it an effortless (and extremely reasonable) getaway for parents holidaying with their kids.


Quality Hotel & Leisure Club Clonakilty SOUTH-WEST
Clonakilty Co Cork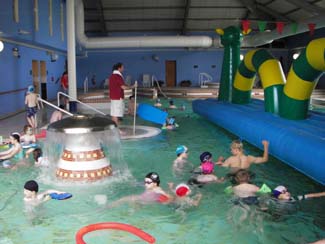 Any parent worried about the weather will understand the benefits of an hotel with good facilities when holidaying with kids. In ever-popular West Cork, many happy families vote with their feet by heading back to the Quality Hotel Clonakilty, every year. And no wonder - this exceptionally family-friendly hotel on the edge of the town is just the kind of place to holiday with kids. There's masses to do and visit nearby, including the West Cork Model Railway Village which has an old-style train that picks people up at the hotel en route to exploring Clonakilty and nearby Inchydoney (where there's a blue flag beach). And each year the hotel's on-site facilities get even better with some great new choices added, recently including a Jungle Gym area (over 2 levels, with a toddler area and one for 4-12yrs) and also a Teen Zone (with Xboxes, Playstations, air hockey etc). In summer and all mid-term breaks a Kids Kamp offers masses of activities for 5-14 year-olds, mainly held outdoors if possible. Fun for kids and relaxing for parents – accommodation is recently refurbished and Clonakilty's on the doorstep for evenings too. Just what's wanted for families.


Renvyle House Hotel WEST
Connemara Co Galway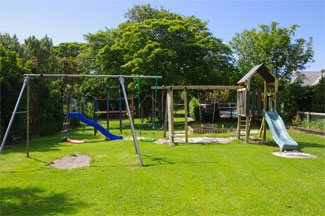 A wonderful place to visit at any age or any time, Renvyle House appeals to people with a yen for the rugged west of Ireland - and a love of the cosy contrasts you find indoors, where a snug conservatory provides an all-weather vantage point to admire the view, and dark beams, rug strewn floors and open fires cast their spell. It's a place that it's easy to fall in love with, and a happy destination for families (and the dog). There is loads to do but, unlike many hotels catering for the family market, the focus is less on organised activities (there is a heated outdoor swimming pool in summer, but don't expect a leisure centre – less still a spa) and more on the old fashioned pleasures of doing things together – or doing nothing very much at all – with plenty for older children who want to have a go at lots of things. Very good child facilities include a nice traditional playground and a crèche in summer - and, to ensure that parents are able to make the most of Tim O'Sullivan's excellent food, the large dining room is cannily organised with a window along one side where parents can see their children in the supervised playroom next door, but typical of GM Ronnie Counihan's very special management style, there's no big deal made about the family facilities, they're just a part of what this wonderful place is.


Bewleys Hotel EAST
Merrion Road Ballsbridge, Dublin 4.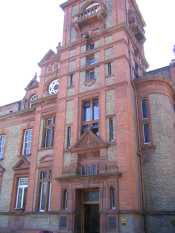 Out-of-towners will find that this large, attractively located hotel in a landmark period building next to the RDS is a great spot for a visit to Dublin with kids in tow – like its sister hotels at Newlands Cross, Leopardstown and (near-ish) Dublin Airport, you get a lot of space and comfort here at a very reasonable cost, but the difference is that you're handy to the city and many attractions are within walking distance in fine weather. Spacious bedrooms big enough for 2 adults & 2 children are well-equipped with all the facilities you could need on a family trip (including iron/trouser press, tea/coffee facilities and safe) and, not only are cots available without charge, but children are free in their parents' room up to 16, and baby sitting can be arranged. Like other budget hotels, the savings are made on service – the hotel catering arrangements are cafeteria style, and there is no room service - but the rate for a standard room is from as little EUR69 per night, and there is underground parking.



Rolf's Holidays SOUTH-WEST
Baltimore, Co Cork.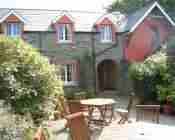 The Haffner family's little kingdom is a bit of a trek up from the village if you are on foot, but it's been a delightful base for family holidays for over 25 years and is in second generation ownership now. It began as a holiday hostel, but rooms have been upgraded to provide en-suite facilities and, and self-catering accommodation with character is also offered. Children are made very welcome (cot available without charge, baby sitting arranged) and, not only is there a daytime café in summer, but there's no special need to stray in the evening either, as Euro-Toques chef Johannes Haffner uses as much home-grown, organic and local produce as possible in the Restaurant 'Café Art' - which has views over Baltimore harbour, and is named after the contemporary art exhibitions held there. Offering something different from other restaurants in the area, meats are a strong point although local seafood is also available of course. Home-cooked dishes and wines to take away, too, if you're self-catering


Ballymaloe House SOUTH
Shanagarry Midleton Co Cork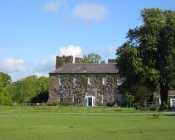 For the ultimate destination with the best of local food a central feature for both you and your children, look no further than Ballymaloe House: the Allen family home may be Ireland's most famous country house hotel but their "large family farmhouse", is still at the centre of the family's 400 acre farm and there's no better place for a family holiday. There's lots to do on site (outdoor swimming pool in summer, tennis, gardens, 9 hole golf), pets are allowed in some areas by arrangement and children are made very welcome – cots are available, baby sitting can be arranged and, although the famous restaurant is not suitable for children under 7 after 7pm, children are welcome at lunchtime and a children's high tea is served at 5.30. Self-catering accommodation also available (details from Hazel Allen).


Rathmullan House NORTH-WEST
Rathmullan Co Donegal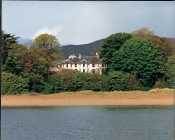 Donegal has an other-worldliness that is increasingly hard to capture in the traditional family holiday areas and, although recently enlarged, the Wheeler family's Rathmullan House retains a laid-back charm and that special sense of place. Children are made most welcome at this gracious, fairly grand, nineteenth century house (complete with ten very desirable, individually decorated newer bedrooms, including a special pet-friendly room) which is set in lovely gardens on the shores of Lough Swilly, with direct access to a long sandy beach, and also has a swimming pool, steam room and tennis on site. And, at The Weeping Elm restaurant, renowned for its meticulously-sourced local and artisan foods, a particularly attractive feature is the Children's Menu: a proper little person's version of the adult menu, with lots of choices and no concessions to 'popular' fare, this is education on a plate.


Derrynane Hotel SOUTH-WEST
Caherdaniel, Co. Kerry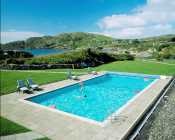 This well-managed 1960s-style hotel on the seaward side of the Ring of Kerry road offers quite modest but comfortable accommodation and it's exceptionally family-friendly (family rooms, under 4s free in parents' room, cots available without charge, baby sitting arranged; playroom). The beautifully located restaurant offers wholesome fare based on high quality ingredients, local where possible (a list of suppliers is given), and a proper children's menu is offered separately and very reasonably priced. With a heated outdoor swimming pool, tennis, pool table, beautiful beaches, excellent fishing with a local fisherman, and an in-house walking brochure, activity holidays are a big draw. Nearby must-visits include Daniel O'Connell's beautiful house at Derrynane and the amazing Ballinskelligs chocolate factory - and golfing parents can withdraw occasionally to Waterville Golf Course which offers special rates at certain times.


Dingle Skellig Hotel SOUTH-WEST
Dingle Co Kerry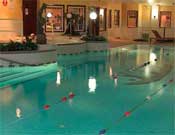 One of Ireland's most consistently popular family holiday destinations, this modest-looking but spacious 1960s hotel enjoys a shore-side location on the edge of Dingle and is furnished with space and comfort in mind. While not a fine dining destination in the sense that some nearby restaurants may be, the town offers oodles of choice within walking distance on those evenings when you want to go and, when eating in, you'll have a pleasant dining experience here based on fresh local ingredients - the cooking is sound, and all ages are well looked after although it's advisable check the times when children can eat in the restaurant. Organised children's entertainment is a draw in summer – entire floors are dedicated for family use to avoid disturbing other guests - cots are available, baby sitting can be arranged, there's a crèche, playroom, and children's playground. And, while outdoor activities are a major attraction to the area (dolphin watching, fishing, water sports, golf, walking…), insurance for unpredictable weather is provided by a well-equipped leisure centre with 17m pool and children's pool, and the hotel's Peninsula Spa.


Kelly's Resort Hotel SOUTH-EAST
Rosslare Strand, Co. Wexford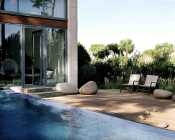 The 'sunny south-east' label is more than just a marketing ploy and the area has all the ingredients required for the traditional family break – including the perfect hotel, with many public rooms to suit all ages ranging from a quiet reading room and a snooker room to a supervised crèche (the number of children is limited at any one time, to prevent creating an imbalance). Leisure facilities include two indoor swimming pools, a well-being centre 'SeaSpa', indoor tennis, and - a bit of fun for Francophiles – boules; everything imaginable including delicious food is provided for children, while adults especially appreciate the Kelly family's outstanding art collection, the excellent dining choices provided by two distinguished head chefs at the more opulent Beaches restaurant or informal La Marine bistro – and, of course, the hotel's famous wine cellar.


Glendine Country House SOUTH-EAST
Arthurstown New Ross Co Wexford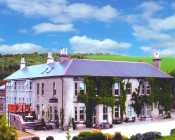 Not everyone wants to stay in a hotel, no matter how exceptional, and Ann and Tom Crosbie's large nineteenth century farmhouse at Arthurstown makes a very hospitable alternative that – with a safe, enclosed playground for children on site and sandy beaches nearby - would be ideal for a family holiday. Children also enjoy the highland cows and other animals kept in paddocks around the house beside the house, and all nine of the comfortable rooms have sea views (2 self-catering cottages are also available). The Crosbies take pride in giving guests advice on local amenities - and sending everyone off well-fed for the day after a really good breakfast, but it's a far cry from the kind of B&B where you're expected to be 'out for the day' as you can pop back any time for a light meal like soup & home-baked bread or open sandwiches.


Ballyvolane House SOUTH
Fermoy Co Cork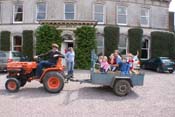 A country house break tends to be seen as rather grown up and sophisticated – not the first idea that would come to mind for a family holiday. Yet many country houses fit the bill perfectly offering a magical 'big house' experience, with gardens and woodland to explore, farm animals to meet and lots for all ages to do. To prove the point, Jenny and Justin Green of Ballyvolane House, Fermoy, Co Cork offer special 'Little People' breaks throughout the year for a few days of family fun. It's ideal for little people, with vast grounds to get lost in, a tree house to play in, woods to explore, hens to feed, eggs to collect, donkeys to pet and lots more entertainment nearby, such as Fota Wildlife Park, Blarney Castle and Leahy's Open Farm. Each child is given a storybook and a jar of cookies on arrival, and 'Farmer Justin' takes all the kids on a tractor and trailer ride around the estate after breakfast; then each evening at 5.30pm, Justin and Jenny's kids Toby, Jamie and Fleur host a High Tea Party. Magic!"


Best places to Stay for...