GREAT ESCAPES FOR WINTER - 10 OF THE BEST
Give yourself a break this winter and, whether over the festive season or at a quieter time, take off for a few days – there are cosy and relaxing places all over Ireland to tempt you, and some fantastic value to be enjoyed too. Browse through this gloriously diverse collection and take your pick…

Dunraven Arms Hotel
Adare Co Limerick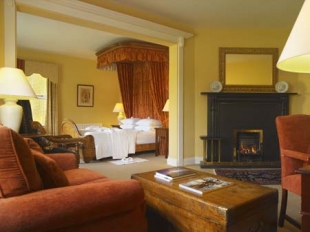 GC Guides "Hotel of the Year" 2014, Dunraven Arms is renowned for the amazing offers the Murphy family dream up to tempt visitors to head for the pretty village of Adare for a cheering break. They've managed to maintain the comfortable feel of a small, family run, village hostelry, although it's actually a large hotel - with all of the associated facilities such as a gym and leisure centre that you find time to enjoy if staying several nights. Bedrooms are spacious and luxuriously appointed and guests sitting rooms with open fires are dotted about the hotel, providing oases of calm; it's easy to see how regular guests quickly begin to see it as a home from home - a remarkable achievement, especially as (unlike many 'budget-beating offers') the food and service are excellent. Lovely riverside walk nearby too.

Galgorm Resort & Spa
Ballymena Co Antrim BT42 1EA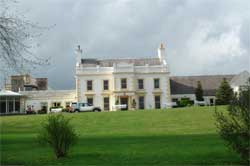 Set amidst beautiful scenery, with the River Maine running through the grounds, this former 'gentleman's residence' outside Ballymena is now one of Northern Ireland's most impressive hotels. Well known as a wedding venue (separate facilities), it has deluxe bedrooms in the former walled garden area, many of them with river views - sad from a gardener's perspective, but it works well for the hotel. With an equestrian centre on site as well as a spa there's no shortage of things to do - and recent visits have found some very good things going on in the kitchens: dinner in the River Room fine dining restaurant should be a series of pleasant surprises, and informal food (including breakfast) served in the atmospheric Gillies Bar & Grill is also consistently pleasing.

Barberstown Castle
Straffan, Co Kildare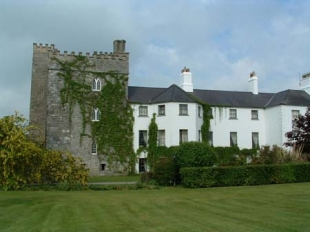 A hotel with a difference and very handy to Dublin, Barberstown Castle offers frazzled city folk an easy getaway with all the advantages of being in the country, minus the long drive. High on character, the Blue Book property has the distinction of having been occupied continuously for over 400 years, and now has sections from four different periods - the original castle keep, an Elizabethan house (16th century), a 'new' Victorian wing added in the 1830s by Hugh Barton (also associated with nearby Straffan House, now The K Club, with which it shares golf and leisure facilities) and a large sympathetically designed new wing. Some especially romantic rooms are in the Castle Keep, but most are more recent - stylish and spacious, some with four-posters. As well as a restaurant offering fine dining of character (check opening nights) there's an elegant bar and two drawing rooms with big log fires - a cosy scenario for enjoying their delicious Afternoon Tea.

The Lodge at Castle Leslie
Glaslough Co Monaghan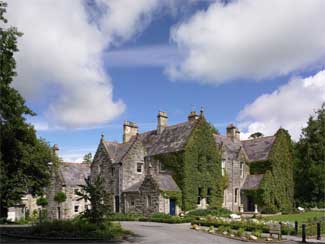 It's easy to be confused by developments at Castle Leslie - an extraordinary place that's been in the Leslie family for three centuries and, until recent years, had changed remarkably little. The distinctly wacky castle is mainly open to private parties, and other guests are instead directed to The Lodge At Castle Leslie, a contemporary (atmospherically designed) 4* hotel just inside the castle gates. It is an appealing short break destination, especially as you can make full use of the hotel facilities (equestrian; spa) Check out their online offers.

Ashford Castle
Cong Co Mayo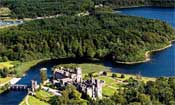 Renowned for luxury, atmosphere and superb food and wine, Ashford Castle is also one of Ireland's best-value destinations for off-season breaks. With big fires and twinkling lights creating a cosy 'away-from-it-all' atmosphere at night, and plenty of outdoor activities including golf, walking and falconry to sharpen the appetite for celebrated Executive Chef Stefan Matz's culinary creations, the castle is perhaps supremely desirable in winter. And, with new owners undertaking improvements both large and small, plus a great sales and marketing team coming up with an apparently endless sequence of tempting offers to lure us to this beautiful place, it is well worth considering - and Galway city's only down the road too.

Cashel House Hotel
Cashel Co Galway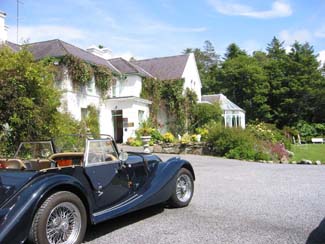 If you're one of the many who love Connemara out of season and hope for the thrill of stormy weather and a cosy home from home to retreat to as darkness falls, the McEvilly family's gracious and beautifully located country house hotel on Cashel Bay could be just the spot for you. With a well-earned reputation as one of the country's most relaxing retreats, it's set in extensive gardens, and they're known for quiet professionalism, comfortable accommodation, good food – notably delicious breakfasts offering a buffet display of home-made and local produce – and, as Kay McEvilly is a former Host of the Year, it should come as no surprise that warm hospitality is a key strength. With open fires at every turn, a proper bar and plenty of comfy places to retreat to with the papers or a good book, this is not a place to be rushed – at least 2 or 3 nights would be recommended. Self-catering accommodation is also available nearby; details on application.

McGrory's of Culdaff
Inishowen Co Donegal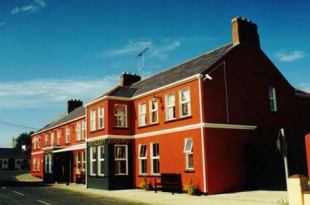 If getting out into the unspoilt winter countryside appeals to you, then Donegal is a great place to be – and, if you want somewhere not too fussy, with a real bar, good food and amazing music, then McGrory's is the one. In business since 1924, what began as a general merchants' store has evolved into a very particular kind of hotel, with good informal meals (especially seafood) and traditional music in the Front Bar (Tue & Fri), a relaxed evening restaurant, simple but very comfortable accommodation and Mac's Backroom Bar (constructed on the site of the old outhouses of McGrory's shop), which is a major venue for live shows featuring international names (Wed & Sat; events listings on website). Famous for its natural beauty and activities like golf, angling and walking, Inishowen is the perfect place to blow away those city cobwebs – and McGrory's would make an ideal base. Midweek 2-night specials off-season too.

Ghan House
Carlingford Co Louth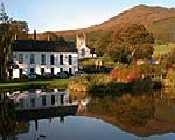 Halfway between Dublin and Belfast, medieval Carlingford village is an ideal off-season break destination – while the narrow streets can quickly become overcrowded in summer, a winter visit here is much more relaxed. And, for many, the Carroll family's 18th century house is the only place to head for - attractively situated in its own walled grounds, with views across the lough to the Mountains of Mourne, it has earned a reputation for warm hospitality, comfort and good food. With a welcoming drawing room fire, a proper little bar where guests can mingle, and a first floor dining room where non-residents are also welcome, it ticks a lot of boxes. Accommodation is comfortable - in a combination of rooms with character in the main house and newer bedrooms in a separate building, which have been finished to a fairly high standard – and the Carrolls also run their well known cookery school on the premises.

The Cliff House Hotel
Ardmore Co Waterford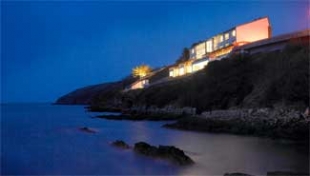 There's a haunting wistfulness about seaside holiday resorts in winter that can be very appealing. Ardmore is just a pretty little village, a traditional family holiday destination that fills up easily in summer with the bucket-and-spade brigade and their entourage, giving out all the happy vibes of people busy doing as little as possible. In winter you could be the only people walking on the beach, and there's a gentle melancholy about it which is very relaxing – and a great contrast to the bright lights and buzz of this very special hotel, which is built into steep cliffs overlooking Ardmore Bay and the Irish Sea. This once traditional seaside hotel now boasts vibrant contemporary style, and the ambitious cooking attracts appreciative guests from all over. There's lots to do in the hotel (a stunningly positioned outdoor infinity pool - and a Jacuzzi, sauna, steam room and gym - all overlook the bay) but it's also an area to explore, as West Waterford is beautiful and gloriously unspoilt: a visit to romantic Lismore is among the recommended outings. Gorgeous contemporary rooms all have sea views, and many have a private balcony for those warmer days – and plenty of special offers to tempt you to spend a couple of nights in this foodie paradise.
Best places to Stay for...