ON A BUDGET - TEN OF THE BEST
You don't necessarily need deep pockets when you're looking for lovely comfortable places to stay in Ireland, that offer character and warm hospitality… Read on and take your pick from this selection of our best budget choices.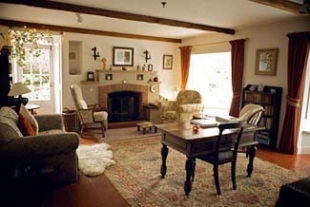 The Anglers Return
Toombeola Roundstone , Connemara Co Galway

Lynn Hill's charming and unusual house on the Ballynahinch River near Roundstone was built as a sporting lodge in the eighteenth century, but you don't have to be a fisherperson to warm to the special charms of The Anglers Return. Its peace and tranquillity, Lynn's warm welcome and natural hospitality, and the opportunity to slow down in a quiet, caring atmosphere in this most beautiful area - this is its particular appeal. It's a place to spend time outdoors: as well as fishing, there is golf nearby, riding and boat trips can be arranged for guests - and there are maps and information for walkers too. The house is set in three acres of natural gardens (open every day in spring and summer; best in late spring) and makes a good base for the Connemara Garden Trail - and, of course, for painting holidays in this stunningly scenic area. Here you can escape (in considerable comfort) from the 'real' world; no television - instead there are views of the river and garden and lots of books to read, perhaps in the secluded back garden in fine weather, or beside the log fire in the soothing drawing room…With its special away-from-it-all ambience, this is a good place to be.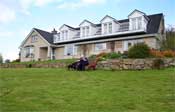 Mulvarra House
St Mullins Graiguenamanagh Co Carlow
In a stunning location overlooking the River Barrow, above the ancient and picturesque little harbour of St Mullins, Noreen Ardill's friendly and well-maintained modern house makes a great base for a reasonably priced break walking, fishing or just moseying around in this serenely beautiful area. The comfortably furnished bedrooms have balconies to take full advantage of views of the romantic Barrow Valley and Noreen, who is a keen self-taught cook, offers homely dinners that use as much local produce as possible (think home-made soups, seafood paté, fresh Barrow salmon, stuffed loin of pork and Baileys bread & butter pudding), served in a dining room which overlooks the river. Genuinely hospitable and reasonably priced, this is a tranquil place where the host wants guests to relax and make the most of every moment - Noreen even offers a range of treatments (massage, mud wraps, refresher facials) by arrangement, to help guests unwind from the stresses of everyday life. Special breaks are offered too.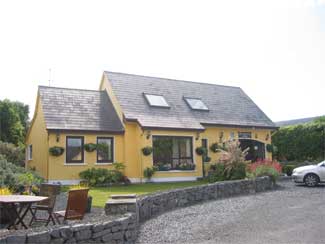 Rusheen Lodge
Knocknagrough Ballyvaughan Co Clare
Just outside Ballyvaughan village, on the Lisdoonvarna road, you'll find this modern house - in summer you couldn't miss it, as the garden is a riot of colour; in contrast to the overall green-greyness of the surrounding Burren, it suggests an oasis in a wilderness - which is just what Rusheen Lodge aims to provide. It's run by Karen McGann and the original owners, her parents John and Rita McGann, live next door and still sometimes give a hand - and it was John 's father, Jacko McGann, who discovered the Aillwee Cave, an immense network of caverns and waterfalls under the Burren which is now a major attraction in the area, so there's no shortage of local knowledge here. Renowned for its high standards, Rusheen Lodge is a former GCGuides Guesthouse of the Year, and constant refurbishment is the policy. Accommodation includes a 3-room executive suite, which is understandably popular, and all of the generously proportioned, well-appointed bedrooms have good bathrooms and amenities. Comfortable accommodation, plus spacious public rooms, good food and genuine hospitality make Rusheen Lodge a particularly pleasant place to stay when taking part in any of the local activities, such as walking on the Burren, or just moseying around. While evening meals are not provided, the pubs and restaurants of Ballyvaughan are close by and breakfast - whether traditional Irish or continental – should be very enjoyable. Children welcome.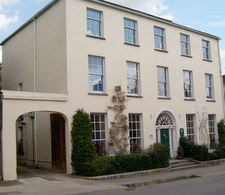 Kilbrogan House
Kilbrogan Hill, Bandon, Co Cork
Siblings David and Catherine Fitzmaurice's three-storey listed Georgian townhouse seems to have changed remarkably little since it was built in 1818 and, at the back, there is a large garden with mature trees and converted stables – a lovely feature for a townhouse. A large, welcoming hall has a fine staircase leading up to bedrooms and also a grand but relaxed first floor sitting room (complete with piano) - there is also a drawing room on the ground floor for guests' use, and a first floor conservatory overlooking the garden. Some bedrooms look out on to Kilbrogan Hill and the hills beyond the rooftops, others onto the gravelled parking area and the lawn and trees at the back. All have mod cons (flat-screen TV, broadband), but are elegantly furnished with antiques - including very comfortable beds with lovely starched cotton sheets - and have well appointed bathrooms with full bath, power shower and heated towel rails. David is a trained chef, so you can look forward to a delicious cooked breakfast – the blue and white checked napkins and tablecloth on the breakfast table give a cheerful country feel. This is a lovely place to stay in West Cork, and Catherine and David are great hosts, keen to ensure that their guests find all the best places to visit (and eat) during their stay. Not suitable for children under 12. Self catering is available in the coachyard.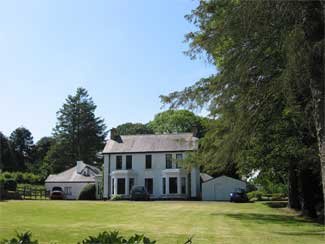 Ardeen
Ramelton Co Donegal
Set in its own grounds on the edge of the heritage town of Ramelton, and overlooking Lough Swilly, Anne Campbell's delightful mid-nineteenth century house is well-located for touring Donegal and Glenveagh National Park – and open fires and the comfortable atmosphere of a family home make this a very warm and comfortable place to return to after a day out. Although the drawing room and dining room are both furnished with antiques, it's not too grand, and the charmingly furnished bedrooms all have their own character and views over the lough or nearby hills; four have their own en-suite shower and the fifth (a twin room) has a private bathroom. No dinners, but Anne can recommend pubs and restaurants nearby. *Self-catering is also available in the 'Old Stables'.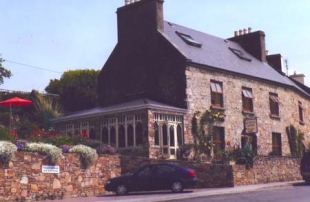 Sea Mist House
Clifden Connemara Co Galway
Locally quarried stone gives character to Sheila Griffin's fine 19th century house in Clifden town, and well-executed renovations in recent years have transformed it into stylish and comfortable accommodation with a lovely, spacious conservatory overlooking the garden, which is Sheila's pride and joy. Guests are welcome to wander through the garden and soak in the tranquil atmosphere, and her home grown fruit is used in the spiced fruit compôtes and preserves which appear at breakfast, along with many other treats (including a special of the day which brings an element of surprise to the menu each morning). Dinner is not offered but this hospitable house is within easy walking distance of several restaurants, and offers great value.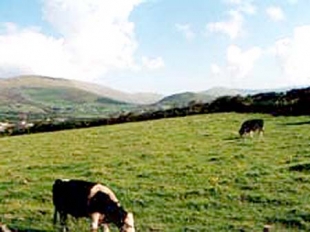 Number Fifty Five
55 John Street Dingle Co Kerry
Stella Doyle has spent most of her working life as a chef (those with long memories will recall her from the original Doyle's restaurant a few doors down), and her charming B&B in the centre of Dingle now offers accommodation with character and comfort - at a very affordable price. Although the frontage seems small from the road, it is larger than it looks, with two guest bedrooms on the ground floor, both delightfully furnished in a fresh country house style, with television and full bathrooms (bath and power shower). Upstairs, however, a light and spacious open plan living room has great style and, like the rest of the house, is furnished with antiques and original art. There's comfy seating and a dining area with large windows looking out to fields at the back of the house; no dinners of course – all the famous Dingle restaurants are close by – but Stella serves predictably delicious breakfasts for guests; no menu - 'anything you like, really'. Now that's hospitality.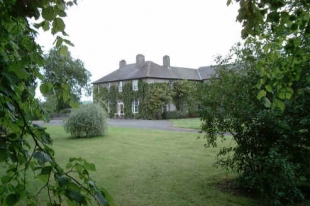 Ballaghtobin
Callan Co Kilkenny
Catherine Gabbett is one of those special people with the 'hospitality gene' – it's definitely a family thing as her sister Victoria Brann, who runs Beech Hill Country House in Holywood, Co Down, has it too. Ballaghtobin is set in parkland in the middle of a five hundred acre working farm in the lush Kilkenny countryside, and this immaculately maintained house has been in the Gabbett family for three hundred and fifty years. Graciously proportioned rooms are beautifully furnished and the three spacious bedrooms - which Catherine has decorated stylishly - all have antique furniture and every comfort, including lovely bathrooms with bath and overbath shower. There's fly fishing and golf nearby and the house is surrounded by large gardens, with a hard tennis court, croquet lawn - and even a ruined Norman church - for guests' use. No dinners, but Catherine will direct you to one of several good restaurants within a short drive.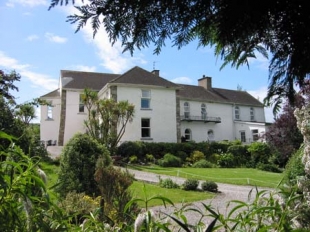 The
Castle Country House
Millstreet Dungarvan Co Waterford
Set in several acres of landscaped gardens amongst the wonderfully unspoilt West Waterford countryside, the Nugent family's unusual and wonderfully hospitable farmhouse is no ordinary place: it is a substantial 18th century house built around the remains of a 16th century castle, with the house blending into the original building in places - the dining room, for example, has walls five feet deep and an original castle archway. Outside you can visit the cellar of the original castle and, on the other side, view the rock on which the house and castle are built; as befits a farmhouse, you may watch the milking and whatever other farm activities are in season - and there's loads to do nearby, too. It will come as no surprise to anyone familiar with The Castle Country House (a former GCGuides Farmhouse of the Year) that it was one of the first establishments to be awarded the Failte Ireland 5* grading. Joan Nugent and her family are renowned for providing every possible comfort for their guests, with immaculate housekeeping and delicious food, including dinner by arrangement - served at separate tables in the lovely dining room, set up with crisp white linen and silver, more like a small restaurant than a farmhouse dining room. Simply magic.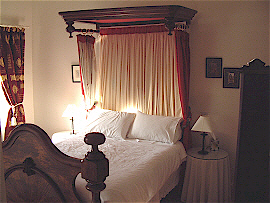 McMenamin's Townhouse
6 Glena Terrace Spawell Road Wexford Co Wexford
Seamus and Kay McMenamin's B&B in Wexford Town has been a legend for many years, offering the perfect reasonably priced base for a short break exploring this fascinating corner of Ireland. Although this hospitable duo upped sticks and moved up the town a little fairly recently, everything will still be familiar to guests returning after an absence of several years – their 'new' Victorian terrace house has been completely restored and beautifully furnished, as before, with everything that you need to be comfortable away from home. McMenamins is a former GCGuides B&B of the Year and the couple are are renowned for generosity - notably with their extensive local knowledge, but perhaps most of all for an outstanding breakfast, which includes old-fashioned treats like kippers and fresh local fish as well as all the more usual dishes. Plenty of restaurants nearby for dinner, and no shortage of things to do.
Best places to Stay for...