ROMANTIC TREATS - TEN OF THE BEST
If you'd like a romantic break with your special someone for Valentines but haven't decided what to do, read on – there are still some lovely treats there for the taking.
Ballyfin Demesne
Ballyfin, Co Laois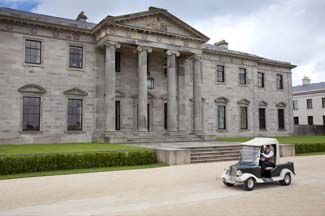 Beautifully located in the foothills of the tranquil and unspoilt Slieve Bloom Mountains, this lavish Regency mansion operates as a luxurious small country house hotel and the offering is unique. It's set on a 600 acre estate, with not a golf course or a cluster of 'townhouses' in site - just parkland, a lake, ancient woods, and recent landscaping by renowned gardener Jim Reynolds (who is Managing Director of the demesne). This most unusual hotel has only fifteen rooms and offers an exceptional level of discretion and privacy for guests, with discreetly hospitable hands-on management by General Manager Aileesh Carew and her team, and Fred Cordonnier's fantastic food. All stays at Ballyfin include full board - Irish breakfast, lunch, tea, coffee & homemade cookies & cake, soft drinks, a pre-dinner drinks reception, dinner, bedroom minibar of soft drinks and snacks, laundry facilities and use of most on-site recreational facilities (equipment supplied), WiFi, gratuity and vat. At around €915 per couple per night it is not cheap, but it is very special and offers genuine value: the place to pop the question perhaps.


Harvey's Point Country Hotel
Lough Eske Donegal Co Donegal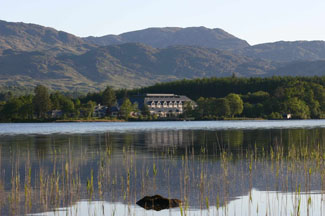 In a stunningly romantic location on the shores of Lough Eske, the Gysling family's hotel is a great destination for a break at any time but Valentines provides a particularly good excuse to head up here and enjoy the luxurious new rooms and suites, which are very large, with amazing bathrooms – and there's seriously good food served in the splendid lough-side restaurant too. On the ball as ever, they're offering an imaginative Valentines Day romantic package including a 'Lovers Walk' treasure hunt - couples roam through the woods in the foothills of the Bluestack Mountains in search of bottles of bubbly, red roses and chocolates which will be cunningly hidden in bowers and glades… And tea and crumpets will be served to guestrooms in the afternoon too, 'as many will no doubt opt for a Siesta on Valentine's Day'. And for those whose love for each other has endured, there will be a special prize for the most senior couple attending the Valentines' Evening dinner. Delightful – and great value too. The St Valentine's two night package costs €199pps (1 night €129pps) including a romantic St. Valentine's Dinner.


Rathsallagh House, Golf & Country Club
Dunlavin Co Wicklow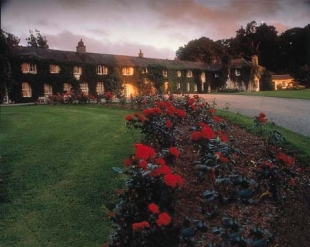 If you are a stickler for enjoying treats on the correct date and can manage to get away for the night on Valentine's Day, then the lovely Rathsallagh house could be just the place for you. It's only an hour's drive from Dublin and, from just €84.50 per person, their overnight Valentines Treat on Tuesday 14th February is a snip. The house is known for its relaxed country elegance, with lots of comfortable seating areas, and open log and turf fires everywhere, including one in the old kitchen bar. The surroundings are soothing in the extreme (beautiful walled gardens as well as large grounds with an 18-hole golf course and clubhouse) and the guestrooms are charming and romantic. For Valentines, couples are encouraged to check in arrive early and enjoy a complimentary bottle of house wine and a box of chocolates. Dinner is sure to be a treat and, as for the breakfast, it's legendary… All this plus a VIP Kildare Retail Village Pass, a discount card for Newbridge Silverware, and late check out to 3.00pm to allow for unlimited golf after breakfast. Brilliant – but for one night only!


Mount Juliet
Thomastown Co Kilkenny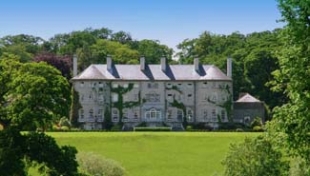 There's a real sense of special occasion about any visit to this beautiful estate where, set romantically amidst 1500 acres of unspoilt woodland, pasture and formal gardens beside the River Nore, lies one of Ireland's finest Georgian houses. Even today it retains an aura of eighteenth century grandeur, as the elegance of the old house has been painstakingly preserved - and it has a uniquely serene and restful atmosphere. What a place for a Valentines treat. Suites and bedrooms in the main house have period decor with modern comforts and there's additional accommodation in the Club Rooms at Hunters Yard, which is very close to the main house. A 1-night night break with a romantic 8-course tasting dinner for two in the wonderful Lady Helen dining room is offered on the day at €269 and other special breaks are also offered for different dates.


Cashel House Hotel
Cashel Connemara Co Galway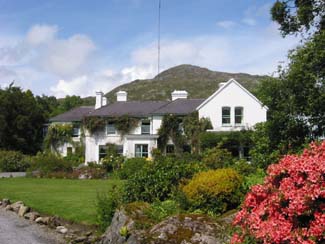 As romantic landscapes go Connemara would beard to beat – and, as the McEvilly family of this long-established hotel say themselves, "Nobody can say no to the picture perfect romantic hideaway in the most beautiful place in Ireland." Their offer to "spoil you both and all you have to do is think of one another" is a particularly appealing to anyone who has visited Cashel House before and knows the comfort, relaxation and high level of discreet service to be found there - and, most importantly at this time of year, what a cosy place it is. With well-tended log fires, plenty of comfy seating areas, good food and very comfortable accommodation, it makes a great off-season base for enjoying the area. Unusually, this Valentines offer extends throughout February (10th to 28th) and covers stays from one to three nights; from €99pps including service.


Kelly's Resort Hotel
Rosslare Strand, Co Wexford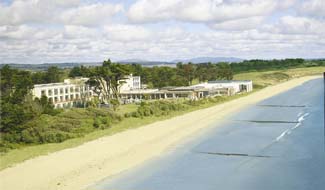 Three centuries of practice undoubtedly helps in running this hands-on family business, and Bill and Isabelle Kelly ensure that their icon of hospitality in the sunny South-East remains a beachside haven for its many fans. The renowned art collection, the contrasting dining experiences offered in Beaches (fine dining) and La Marine (bistro), the hotel's celebrated wine list, and the music that rounds out the evening after dinner are all among the many things that make this hotel special. But above all it is the genuine hospitality and customer care provided by the ever-watchful Bill Kelly and his excellent team. The hotel is renowned for its special breaks, and the two-night Valentines package (€242pps) – which begins with champagne on ice in your room on arrival, and includes Traditional Afternoon Tea as well as dinner in Beaches on one night - will not disappoint. Just allow plenty of time for a romantic stroll along Rosslare beach before dinner.


Brooks Hotel & Francescas Restaurant
Drury Street Dublin 2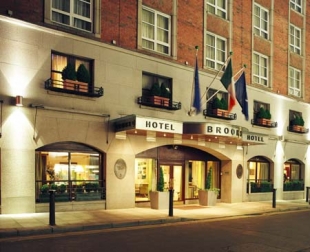 While city people like to head for the hills to make the most of their down time, country folk are naturally drawn to the bright lights – and the discreetly luxurious Brooks Hotel would be an ideal destination in Dublin. It's not just a lovely place to stay – with a Euro-Toques chef in the kitchen – but it's also extremely convenient with a carpark just across the road and all of the city centre attractions within easy walking distance. A range of romantic breaks is offered, starting at about €125pps for a one night stay, although longer breaks offer better value. Included are Chefs' signature chocolate treats and Prosecco on arrival, a complimentary room upgrade, a rose petal bed and Dinner in Francesca's restaurant – where a special menu is offered on Valentines night and the preceding weekend (Fri &Sat).
Kilkenny River Court Hotel
The Bridge John Street, Kilkenny Co Kilkenny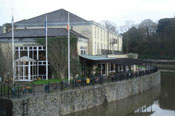 Kilkenny City is a favourite destination for short breaks, and no wonder – it's full of character and its fairly central location makes it a handy distance from a lot of places. And the River Court Hotel is a choice place to stay for similar reasons. Beautifully situated in a courtyard just off the narrow, bustling streets of the city centre, with only the River Nore separating it from Kilkenny Castle, this fine hotel enjoys the city's premier location, and has a lovely big riverside terrace at the front. Their Valentines breaks offer good value, from about €105pps – including 1 night Dinner, B&B and a choice of one of four treatments each – and Executive Head Chef Gerard Dunne and his team have had a lot of fun with the special menu too.


The Malton
Town Centre, East Avenue Road , Killarney Co Kerry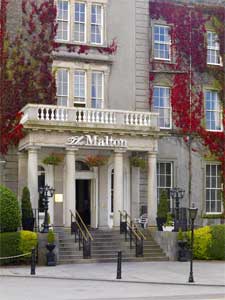 'Kerry is for Lovers of Life' goes the catch-phrase for this most romantically beautiful county, and the former Killarney Great Southern could be just the spot for a weekend away with your significant other. The pillared entrance and ivy-clad facade of this classic Victorian railway hotel still convey a sense of occasion and some areas, such as the 'drawing rooms' that provide quiet seating areas off the large foyer, have retained their traditional elegance. The interior generally has had a makeover, however, and there is now a much more contemporary tone which should appeal to younger guests. Although right in the town centre and within walking distance of everything in the town, the hotel is set in extensive gardens and it is a lovely place to stay – and in very good hands too, as the genial all-seeing GM Conor Hennigan keeps everything running smoothly as if by magic. Romantic breaks from 10-14 February, from about €180 per room.


The Clarence Hotel & Tea Room Restaurant
6-8 Wellington Quay Dublin 2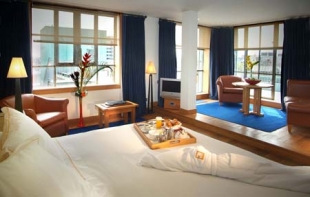 Dating back to 1852, this Dublin hotel has long had a special place in the hearts of Irish people - especially the many who regarded it as a home from home when 'up from the country' for business or shopping - largely because of its convenience to Heuston Station. The riverside location is fantastic and, since the early '90s, it has achieved cult status through its owners, Bono and The Edge of U2, who have completely refurbished the hotel, sparing no expense to reflect the hotel's original arts and crafts style whenever possible. It's a fine hotel to stay in but, for many, a special meal out would fit the bill for a Valentines treat better than a short break. If so, and especially if the budget is restricted (and whose isn't these days), you won't get more bang for your buck anywhere in Dublin than here in the beautiful Tea Room restaurant, where a special romantic menu is for just €35 per person to include a glass of prosecco (weekends of 10-11 & 17/18 Feb only).
Best places to Stay for...