WEDDINGS & HONEYMOONS
If you are looking for a Wedding Venue in Ireland then check out the new Wedding Venue area on our website - please click here weddings.ireland-guide.com

Alternatively here are a selection of 10 of the best Romantic Wedding & Honeymoon destinations as taken from our guidebook Ireland for Romantic Weddings & Honeymoons. Choosing "ten of the best" was very difficult as they are all wonderful!

Gregans Castle Hotel
Ballyvaughan Co Clare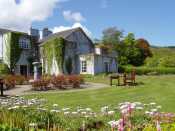 Many discerning couples dream of having their big day at a country house and, at Gregans Castle, the Haden family offers a quietly luxurious venue, in beautiful surroundings overlooking Galway Bay and the Burren. Wedding blessings are possible here - and there is a quaint, remotely located church nearby. Head chef Adrian O'Farrell offers a 5-course menu which, at EUR52 with two choices on each course and no supplements, is outstanding value for money. Some restrictions apply, and weddings are not normally accepted in high season.


Longueville House Hotel
Mallow County Cork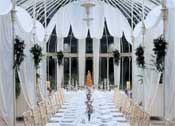 The O'Callaghan family's elegant Georgian mansion is set in 500 acres of private wooded grounds, and the recently renovated 1862 Turner conservatory is romantically draped with muslin, making a stunning backdrop for a memorable wedding dinner based on fine Longueville produce and cooked by renowned chef-proprietor William O'Callaghan. Unusually, a flat rate of EUR95 per person applies (midweek weddings EUR75); this makes it easier to budget, and is good value, as it includes canap?s, a 4-course dinner with no supplement for choices, and late-night finger food. Some restrictions apply.


The Rectory
Glandore, West Cork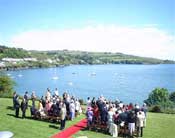 This handsome 19th century residence overlooking Glandore harbour, makes a wonderful wedding venue. Local churches include a delightful Church of Ireland next door, and wedding blessings may be held on the front lawn, which is also the perfect place for a drinks reception and photographs on a fine day. Spacious reception rooms along the front of the house make a fine restaurant, and an exceptionally comprehensive list of local services, is supplied - this is a place where a lot of thought has been given to guests' needs. Some restrictions apply.


Beaufield Mews
Woodlands Avenue Stillorgan Co Dublin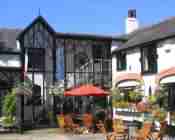 Restaurants can make wonderful wedding venues, and we include a selection throughout Romantic Weddings. Atmosphere is the trump card here at Dublin's oldest restaurant, which is in a characterful 18th century coachhouse and surrounded by beautiful mature gardens, lit up by night. There's a choice of churches nearby, and wedding blessings are possible in the gardens too - no wonder this highly romantic place is a popular wedding venue for TV personalities, and authors Joe O'Connor and Cathy Kelly hosted their wedding receptions here too.


Cloghan Castle
Kilchreest, Loughrea, Co Galway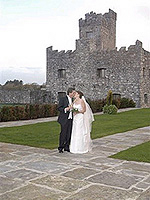 Many of our most exclusive recommendations in Romantic Weddings are private venues, and this fully restored 800 year old castle is one of the most atmospheric. Available for exclusive self-catering hire only, it includes accommodation in seven romantic, luxuriously furnished bedrooms. Wedding planners can also be recommended if required, and a detailed wedding guide book is supplied. Wedding blessings are possible at the castle, which makes a marvellous setting for photographs. You can bring your own drinks - and a licence (with possible bar extension) can be transferred from a local bar.


The Inn at Castledawson
47 Main Street Castledawson Co Derry BT45 8AA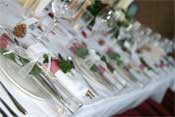 Built around the 200 year old Castledawson House, Simon Toye and Kathy Tully's latter day inn makes a delightful, romantic place for a wedding - and, thanks to Simon's excellent cooking and their 'nothing is too much trouble' policy, it is sure to be memorable. There's a stylish modern bar for drinks, a lovely tiered light-filled restaurant with a huge arched window overlooking the River Moyola - and a decked balcony that can be decorated with fairy lights. And there's smart contemporary accommodation too.


Castle Durrow
Durrow Co Laois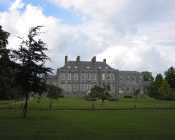 Midway between Dublin and Cork, this 300-year-old mansion makes a magnificently romantic wedding venue. Wedding blessings are possible here, and the reception is held in a private banqueting hall, opening onto a private terrace. A complete package is offered, which simplifies budgeting; it includes drinks on arrival, canap?s, the (delicious) banquet, a wine allocation, a toast drink for everyone and an evening buffet. Castle Durrow only accepts a maximum of three weddings a week, and accommodation is luxurious: no wonder this is one of Ireland's most desirable wedding venues in.


Dunraven Arms Hotel
Adare Co Limerick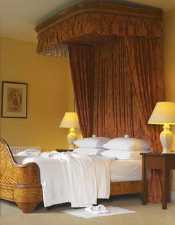 This family-run hotel was established in 1792, and has somehow retained the comfortable ambience of a country inn - albeit a very luxurious one, with stylish and very comfortable accommodation, and good food. And it has earned a special reputation for memorable weddings, which have separate catering facilities and are held in a ballroom beside the main hotel, with access to the gardens in fine weather; an attractive all-inclusive package is offered and, with 5-course menus and table service available from EUR34, this is good value.

Coolbawn Quay
Coolbawn Nenagh Co Tipperary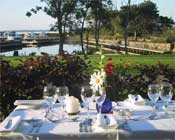 Few wedding venues could rival the enchantment of this magic place on the eastern shores of Lough Derg, modelled on a 19th century Irish village. It is possible for the bridal couple to arrive by boat from a nearby church - they can pull right up to the deck by the water's edge, where the guests will be gathered for the drinks reception... Now, just how romantic is that? Summer receptions are held in a marquee overlooking the water, and the Schoolhouse is cosy in winter. Some restrictions apply.


Rathsallagh House
Dunlavin Co Wicklow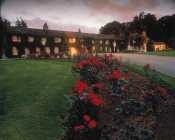 There are old country churches near the O'Flynn family's renowned country house, and wedding blessings can be held in their beautiful walled garden (perfect for photographs). In-house wedding co-ordinators can arrange virtually anything and exclusive use of the venue is built into the costs; the house is set up to provide a soft romantic setting, a magnificent 5-course sit-down dinner showcases local and home-grown produce, and charming accommodation includes a highly romantic bridal suite: Ireland offers many wonderful wedding venues, but this is undoubtedly one of the most desirable.

--------

One of the guides in the Georgina Campbell's Ireland...series, Romantic Weddings & Honeymoons, is available online here or in all good bookshops. This independently assessed survey of the most desirable venues for your big day (and destinations for that all-important de-stressing romantic break afterwards) aims to make it a great deal easier for discerning couples to find the perfect solution - for every age group, varying numbers (from 2 to 200+) and budgets ranging from modest to sky's-the-limit...So whether your penchant is for a castle, country house, special hotel, private rental, restaurant or even a pub, you'll find the (usually beautifully located) solution and a wealth of essential information in this book.
Best places to Stay for...