Dun Laoghaire, Co. Dublin
Dún Laoghaire is a seaside town and ferry port situated some 12 km south of Dublin city centre. The name derives from its founder, Laoghaire, a 5th century High King of Ireland, who chose the site as a sea base from which to carry out raids on Britain and France.

The harbour is notable for its two granite piers - one of which is the busiest pier with people walking on it in Ireland - and is home to four yacht clubs.

Featured Establishment
Buy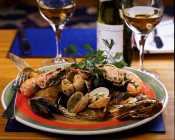 Dun Laoghaire, Co. Dublin
Fish Shop / Restaurant / Speciality Store
Caviston's of Sandycove has long been a mecca for lovers of good food - here you will ...
more...
Local Recommendations
Hospitality
Self Catering
Tourist Attractions
Golf Courses
Gardens
Nearby Towns/Areas
Town Information