Glencullen, Co. Dublin
Glencullen (Gleancuillean) or 'valley of the holly', is a village in the Dublin mountains in South County Dublin situated on the R116 at an elevation of 276m (906 feet). It has an important standing stone located near Johnnie Fox's Pub.
Featured Establishment
Drink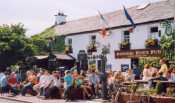 Glencullen, Co. Dublin
Character Pub / Pub / Restaurant

Nestling in an attractive wooded hamlet in the Dublin Mountains, south of Dublin city, ...
more...
Local Recommendations
Hospitality
Self Catering
Tourist Attractions
Golf Courses
Gardens
Nearby Towns/Areas
Town Information