Beetroot Risotto with Boilie Cheese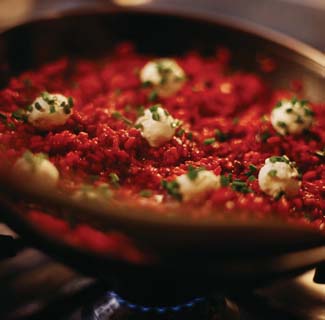 by Eunice Power of Powersfield House

Beetroot gives this dish a wonderfully vibrant colour. The flavour of the Boilie cheese is a perfect foil to the earthiness of the beetroot. Boilie is a soft handmade cow's milk cheese preserved in sunflower oil, flavoured with fresh garden herbs.

It is made at Fivemiletown Creamery in Co Tyrone and is available in most supermarkets, if you can't get Boille use a soft goat's cheese such as Ardsallagh or Bluebell farm or a Sheep's Cheese such as Knockalara.

Serves 4

25g butter
1 onion, peeled & finely chopped
1 clove garlic, peeled & sliced
225g/ 8oz Arborio rice
Salt & pepper
750ml /1 ¼ pints vegetable stock
3 medium sized beetroot cooked and peeled
4 tablespoons freshly grated parmesan cheese
Extra parmesan cheese to serve
8 balls of Boilie cheese
A handful of finely chopped chives.

Melt the butter in a heavy based saucepan. Add the onion and garlic and cook for about 5 minutes or until the onion is beginning to soften. Add the rice, salt and pepper and cook stirring, for about 2 minutes. Add just enough stock to cover the rice and continue cooking, stirring all of the time until most of the stock has been absorbed.

Continue adding stock until most of it has been absorbed and continue in this way adding more stock until it is completely absorbed and the rice is tender.

Meanwhile liquidise the beetroot with some freshly milled salt and black pepper, then stir this into the rice. Heat through for 1 – 2 minutes, remove from the heat and stir in the parmesan.

Adjust the seasoning, divide between four bowls, crumble some Boilie cheese on each portion, and sprinkle with finely chopped chives.