Cork Hotels
Cork Hotels - find the best here:
County Cork is Ireland's largest county and within it lies the island of Ireland's third biggest city, it being only smaller in population than Dublin and Belfast. Whilst smaller in population it is thought by its' residents to be bigger in stature and many would claim it is the Republic's true capital!

The city itself has long been of serious maritime importance and continues to house an important seaport on the mouth of the River Lee - it now has two main channels flowing through the city - that are bridged in many places - on the way to its' end in the s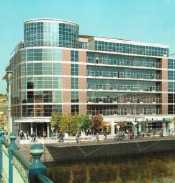 ea. The county is lovingly known as the "Rebel County" due to its reputation for independence and resistance.

Modern Cork is a thriving and bustling city with a great buzz about it. It was the European City of Culture in 2005 and this brought the crowds and the international spotlight. Obviously there was huge investment in the city in the years running up to this, and the hotel industry was one of the biggest benefactors. There is a great selection of hotels to choose from in Cork City, many with stunning locations and great facitlities.

Cork is home to the countries leading Jazz Festival over the October Bank Holiday weekend (last weekend in October) which attracts visitors from all over.

Cork City is a great size as it allows visitors to explore its length and breadth without the need for a car and it has many hotels in Cork city centre which will allow for this sort of exploration.

* For other accommodations such as B&Bs or guesthouses and for the best restaurants in town please use the search engine to the left of the page or the Places to Stay tab at the top of the page.
Cork Hotels that we recommend:

Clarion Hotel Cork €€
Those who like ultra-modern hotels and enjoy the buzz of the city centre will love the new Clarion. In a briliant central location with a wide terrace and boardwalk along the River Lee, this striking modern hotel embodies many of the best features of other recently built Clarion hotels.

Gresham Metropole Hotel & Leisure Centre €€€€
This imposing city-centre hotel next door to the Everyman Palace Theatre and backing on to the River Lee, celebrated its centenary in 1998. Always popular with those connected with the arts and entertainment industry, there are many displays (photos and press cuttings) of stars past and present in the public areas and the atmospheric, traditionally-styled Met Tavern.

Hayfield Manor Hotel €€€€
Set in two acres of gardens near University College Cork, the city's premier hotel provides every comfort and a remarkable level of privacy and seclusion, just a mile from the city centre.

Hotel Isaacs €€€
Opposite the Everyman Palace Theatre and approached through a cobbled courtyard, this attractive hotel offers comfort in spacious rooms at a fairly reasonable price.

Imperial Hotel €€
This thriving hotel in Cork's main commercial and banking centre dates back to 1813 and has a colourful history - Michael Collins spent his last night here, no less, and that suite now bears his name.
River Lee Hotel €€€
Following complete redevelopment of their original riverside site on Western Road, River Lee Hotel has re-opened and is no doubt set to become one of the most popular Cork hotels again, especially perhaps for business guests.
Jurys Inn Cork €
In a fine central riverside site, this conveniently located budget hotel has all the features that Jurys Inns are well known for.

Kingsley Hotel €€
Conveniently situated in an attractive location alongside the River Lee, just minutes from both Cork airport and the city centre, this modern hotel has been built and furnished to a high standard and is especially appealing to business visitors, for whom it quickly becomes a home from home.

Maryborough House Hotel €€
This hotel, which is quietly situated on the south of the city and very convenient to Cork airport and the Jack Lynch tunnel, has a fine country house at its heart and is set in its own gardens.

The Montenotte Hotel €€
Previously the Country Club Hotel, the 'new' Montenotte opened just as we went to press - perched high over the city in a fashionable residential area, it offers a chic alternative to city centre accommodation.

Maldron Hotel Cork €€
This newly refurbished hotel is located in Cork's City Centre, less than a five minute walk from Patrick St, the city's main thoroughfare.

Radisson Blu Hotel & Spa Cork €€€
Situated just east of Cork city, adjacent to an industrial estate - and near the Jack Lynch tunnel, which gives easy access across to the airport. The Radisson SAS Hotel Cork is set in 9 acres of landscaped gardens, and follows the familiar practice of adding a well-designed modern build to an old property.

Rochestown Park Hotel €€€
Formerly a home of the Lord Mayors of Cork, this attractive hotel stands in lovely grounds and the original parts of the building feature gracious, well-proportioned public rooms.

Silver Springs Moran Hotel €€
A sister hotel of the Red Cow Moran Hotel in Dublin, this landmark hotel is situated in 25 acres of landscaped gardens about five minutes drive from the city centre.

Cork Airport Hotels

Carrigaline Court Hotel and Leisure Centre €€
While not actually in the airport this conveniently-located modern hotel is only a few minutes away and offers hands-on management and attentive staff that really make the difference.

Radisson Blu Hotel Cork Airport €€€
This stylish modern hotel is very handily located, within walking distance of the terminal. Ideal for a first or last night's stay, it's also a useful meeting place and is well equipped for business guests.

Cork International Airport Hotel €
Linked by a covered walkway leading to the door of the new Cork Airport terminal, this recently opened hotel could not be handier for the time-pressed traveller.