Killarney Hotels
Killarney Hotels - find the best here:
The town of Killarney among the lakes and mountains has long been a magnet for visitors and has been the inspiration of poets and painters over many centuries, for it was in 1754 that its attractions were first internationally promoted.
The benefit of such a lengthy history in tourism can be seen in the abundance of facilities to suit everyone – some of the countries best hotels are to be found in Killarney and it's many restaurants mean it is a haven for the traveling gourmant.
The hotels in Killarney cater for the masses of tourists – it has been Ireland's premier tourist destination for over 25 years – and there are many places of interest and of historical importance to visit in Killarney whilst staying there. From waterfalls to churches and monuments; it is also a haven for walkers with walks and trails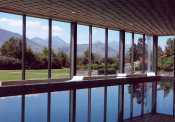 around Killarney ranging from a two hour tourist trail around the town itself to the 135 mile "Kerry Way."
Killarney town is an excellent centre for shops and cinema and for the sporting enthusiast there is angling and water sports, golf, riding, orienteering and canoeing and much, much more. In the evenings there is entertainment abounding – all within an easy walk from the town centres hotels.
Please browse the list of Killarney Hotels below and where possible you can also make a secure online booking.
* For other accommodations such as
B&Bs
or
guesthouses
and for the best
restaurants
in town please use the search engine to the left of the page or the Places to Stay tab at the top of the page.
Killarney Hotels that we recommend:
Aghadoe Heights Hotel €€€€€
A few miles out of town, this famous low-rise hotel, dating from the '60s, enjoys stunning views of the lakes and the mountains beyond and also overlooks Killarney's two 18-hole championship golf courses. Over the last few years Aghadoe Heights has been transformed into one of Ireland's most luxurious hotels
Cahernane House Hotel €€
This family-owned and managed hotel is in a lovely quiet location, convenient to Killarney town yet - thanks to a long tree-lined avenue and parkland which stretches down to the water - with a charmingly other-worldly atmosphere.
Dromhall Hotel €€€
A sister hotel to the more traditional Randles Court Hotel next door, this contemporary hotel provides complementary services and has been completed to a high standard, to include a leisure centre situated between the two hotels, for their common use.
The Malton €€
This classic railway hotel was established in 1854 and has been given a new modern feel following a change of ownership.
Killarney Park Hotel €€€€€
Situated in its own grounds, a short stroll from the town centre, the Treacy family's luxurious, well run hotel is deceptively modern - despite its classical good looks, it only celebrated its first decade in March 2002.
Killarney Plaza Hotel €€€
This large new hotel in the heart of Killarney is undoubtedly glitzy but, in seeking to regain the glamour of the grand hotels, it offers an alternative to the ubiquitous minimalist good taste that has taken over in Irish hotels of late.
Killarney Royal Hotel €€€
Another of Killarney's unrivalled collection of fine hotels, this family-owned establishment is a charming older sister to the luxurious Hayfield Manor Hotel in Cork city (see entry). Joe and Margaret Scally have recently lavished care and investment on it.
Killeen House Hotel €€
Just 10 minutes drive from Killarney town centre and 5 minutes from Killeen and Mahoney's Point golf courses, this early nineteenth century rectory has become Michael and Geraldine Rosney's "charming little hotel".
Muckross Park Hotel
€€
At the heart of this large, well-executed development lies a fine Victorian house and, although the newer areas have an elegant contemporary style, an atmosphere of timeless quality prevails throughout.
Quality Hotel & Leisure Centre Killarney €€
The Quality Hotel & Leisure Centre Killarney is conveniently located in Killarney and offers a great option for the more budget conscious traveller with great facilities for families.
Randles Court Hotel €€
Within easy walking distance of the town centre, but also convenient to attractions such as Muckross House and Killarney National Park, this family-owned and managed hotel has been developed around an attractive house originally built in 1906 as a family residence, and extensively refurbished before opening as an hotel in 1992.
The Brehon
€€€€
Appropriately enough, as it is so close to the Irish National Events Centre (INEC), everything at this 5* hotel, conference centre and spa is on a grand scale.
Earls Court House
€€
Although Roy and Emer Moynihan's purpose-built guesthouse quite near the town centre is now classified as an hotel, its essential qualities of hospitality, professionalism, comfort and character remain unchanged.
Lake Hotel Killarney
€€
The Huggard family's long-established hotel in Killarney lays claim to 'the most beautiful location in Ireland' and in truth it's hard to argue with that.
The Ross Hotel
€€€

Lovers of contemporary style will adore the Treacy family's impressive new boutique hotel.
Hotel Dunloe Castle €€€
Hotel Dunloe Castle is a wonderfully relaxing place to stay – generous space is allowed for all areas throughout, the quality of furnishing is exceptionally high and both maintenance and housekeeping are excellent.
Europe Hotel & Resort
€€€€
Although now around thirty five years old, this impressive hotel was exceptionally well built and has been so well maintained through the years that it has continued to outshine many a new top level hotel.