Chocolate Cherry Tiramisu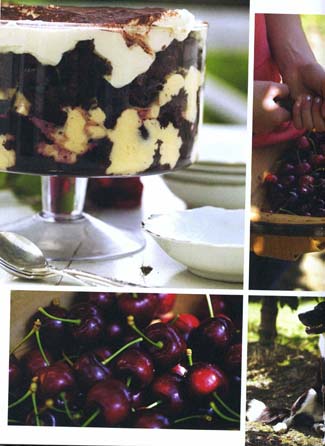 From The Free Range Cook by Annabel Langbein

"Some recipes make this classic unnecessarily complicated, but this version is dead easy and wickedly good. Traditionally, tiramisu contains coffee or alcohol, but I've made this with Berry Syrup (separate recipe below) so the kids can enjoy it too. If you're short on time, use store-bought chocolate cake or sponge."

Prep time 15 mins + 4-24 hours chilling

Serves 8-10

4 eggs, separated
400g mascarpopne
4 tbsp brown sugar
1 tsp vanilla extract
23 cm chocolate cake or chocolate sponge (approx 300g) broken into 2cm cubes.
250ml Berry Syrup (separate recipe below)
800g fresh cherries, pitted, or 500g fresh raspberries or other berries

To garnish:

300 ml cream
2 tbsp cocoa

Combine the egg yolks, mascarpone, sugar and vanilla extract in a bowl and using a wooden spoon beat until thick and creamy. Put to one side.

Put the egg whites in a clean bowl and beat with a clean whisk until they form soft peaks. Fold gently into the mascarpone mixture.

Place one third of the sponge pieces in the base of a large glass serving bowl. Drizzle a third of the Berry Syrup over the top. Spoon over half the mascarpone mixture then cover with half the pitted cherries or berries.

Layer on another third of the sponge pieces, drizzle with another third of the syrup and top with the remainder of the mascarpone. Top with the rest of the cherries or berries, another layer of sponge and the last of the syrup. Cover and chill for at least 4 hours or up to 24 hours,

Just before serving, whip the cream until it forms soft peaks and spread it over the top of the tiramisu. Sieve the cocoa over the top and chill until ready to serve.


Berry Syrup

This useful Fridge Fixing can be used as a tangy sauce for desserts, swirled through yogurt or whipped cream, or drizzled over chocolate cake.

500g raspberries, fresh or thawed from frozen
125g caster sugar
2 tbspwater

Makes 425ml

Prep time 5 mins
Cook time 2 mins

Put the berries in a pot and add the sugar and water. Bring to a simmer.

Remove the pot from the heat and press the berries through a sieve or mouli to extract the juice and remove the pips.

Berry Syrup will keep for up to 10 days covered in the fridge.