Granola Crunch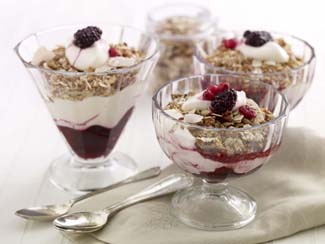 by Catherine Fulvio of Ballyknocken House and Cookery School for Flahavan's

"We serve this for breakfast at our farmhouse and are amazed at the requests for the recipe."

Serves 6

Ingredients For the Granola

2 tbsp sunflower oil
2 tbsp maple syrup
2 tbsp honey
300g Flahavan's Organic Jumbo Oats
2 tbsp sunflower seeds
2 tbsp sesame seeds
3 tbsp pumpkin seeds
80g flaked almonds
3 tbsp desiccated coconut or shaved coconut
To serve:
500ml natural yoghurt
250g berries in season or berry compote

Method

1. Heat the oven to 180°C/Fan 160°C/Gas 4

2. Mix the oil, maple syrup and honey in a large bowl. Add in all the remaining ingredients, except the coconut, and mix well.

3. Pour the granola mix onto a baking tray and spread evenly. Bake for 20 – 25 minutes, then mix in the coconut and bake for a further 10 minutes. Keep an eye on this mixture and stir from time to time, as it can burn easily around the edges.

4. Remove from the oven and allow to cool completely.

5. To serve, layer some granola, a few spoons of natural yoghurt and berries into glass bowls or pretty glasses. Repeat the layers, ending with yoghurt. Decorate with a few berries.

Catherine's Tip: "As breakfast is such an important meal of the day, I am always looking for new ideas so try adding chopped dried apricots or dried figs or any dried fruit to the mix after the baking process. Just ensure that it has cooled before adding them."

Variation: Replace the jumbo oats and seeds with 450g of Flahavan's Multi Seed Porridge Oats.