Honeyed Cajun Chicken with Mexican Salsa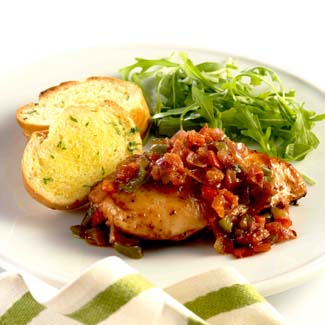 This recipe comes from the well known Euro-Toques chef, Feargal O'Donnell, of The Fatted Calf in Glasson, Co. Westmeath. Having devised it for a
Happy Heart campaign, the emphasis is on healthy as well as enjoyable eating.

Use the honey of your choice.

Serves 4

4 x 100g / 4oz chicken fillets, trimmed
15ml /1 tablespoon olive oil
A little salt and freshly ground black pepper

Marinade:

1 tablespoon Cajun spices
2 tablespoons honey
2 tablespoons BBQ sauce

Salsa:

1 red pepper, diced
1 green pepper, diced
1 red onion, diced
1⁄2 cucumber, diced
4 tomatoes, deseeded and diced
2 cloves garlic, puréed
50g / 2oz brown sugar
5 tablespoons cider vinegar
1 teaspoon ground ginger
1 teaspoon caraway seeds

To serve:

Dressed rocket leaves and crispy garlic bread

Season the chicken fillets.

Mix the marinade ingredients together and allow the chicken to soak in the marinade in a shallow dish in the fridge.

Leave for at least an hour, but preferably overnight, basting occasionally. Cook the chicken by sealing the fillets in a little olive oil on a pan, then roasting in a moderate oven at 160°C /325ºF/Gas Mark 3 for 35 minutes.

To make the salsa, sauté all the salsa ingredients (except for the sugar and vinegar), in a little olive oil for 10 minutes. Reduce the liquid by half, remove from the heat and stir in the chopped coriander. Finally add the sugar and vinegar and heat gently to serving temperature, stirring constantly.

Serve the marinated chicken fillets with the salsa liberally poured over, along with some dressed rocket leaves and crispy garlic bread.