Kaye korma curry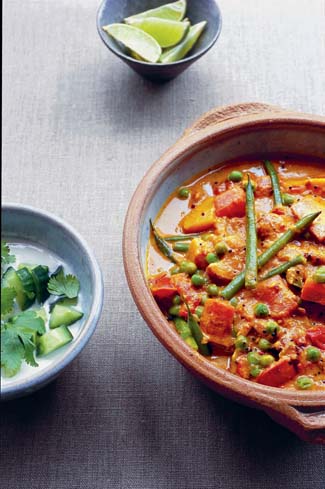 From Diana Henry, Food From Plenty (Mitchell Beazley, 320pp, hardback stg£20)

"Use this as a blueprint for a mild vegetable curry, with whatever is abundant. I sometimes make it with aubergines, courgettes, or squash, and don't always add beans or peas. It is very good-tempered and reheats well."

Serves 4

2 tbsp sunflower or groundnut oil
1.5 tsp black mustard seeds
2 onions, finely chopped
4 garlic cloves, crushed
4cm (1 1/2in) fresh ginger root, peeled and finely chopped
1 red chilli, deseeded and finely chopped
1/2 tsp ground turmeric
1 tsp ground coriander
200g (7oz) tomatoes, cut into chunks
250g (9oz) carrots, cut into chunks
350g (12oz) potatoes (waxy or floury; if waxy, there's no need to peel), cut into chunks
250ml carton coconut cream
salt and pepper
100g (3 1/2oz) French or dwarf beans, topped and halved
100g (3 1/2oz) frozen peas
juice of 1/2–1 lime, to taste
1 tbsp chopped coriander

1 Heat the oil in a flameproof casserole and add the mustard seeds. As soon as they pop, add the onions. Fry over a medium heat until the onions are good and brown, but not burnt. Add the garlic, ginger and chilli and cook for 5 minutes, then add the ground spices and cook for another minute to release their fragrance.

2 Add the tomatoes, carrots and potatoes. Stir and cook for 4 minutes to soften the tomatoes, then add enough water just to cover, followed by the coconut cream. Season and bring to just under the boil. Reduce to a steady simmer and cook until almost tender (add more water if it looks dry). The sauce should just coat the vegetables.

3 The beans and peas need to cook for only about 3–4 minutes, so add them towards the end of cooking. Taste and add half the lime juice, then taste again, adjust the seasoning and decide whether you want to add more. Stir in the chopped coriander just before you serve the curry.