Mini Amaretto Chocolate Hearts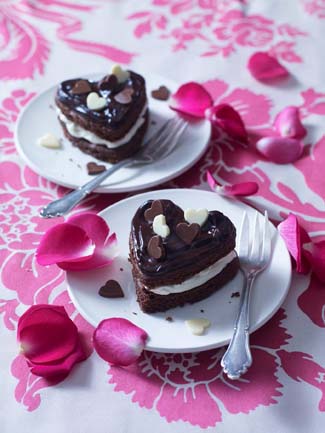 The following recipe is from baking specialists Dr. Oetker – an international operation with its headquarters in Germany, this fourth generation family business credits its success to their belief that "quality is the best recipe".

Serves 2

50g caster sugar
1 medium egg
40g plain flour
1⁄2 tsp baking powder
10g cocoa powder
2 tbsp amaretto
100ml whipping cream
To finish: chocolate hearts or other cake decorations

for the ganache:

41⁄2 tbsp double cream
100g Dr. Oetker continental plain chocolate
1 tsp butter

1. Heat the oven to 180°C. Grease and base line a 20cm sandwich tin. Whisk the sugar and egg together until pale and thick. Sift the flour, baking powder and cocoa into a bowl, then fold into the egg mix. Pour into the prepared tin and level the top.

2. Bake for 12-15 minutes, or until cooked through. Cool on a wire rack, then cut out four 7cm hearts using a cutter. Drizzle each heart-shape sponge with 1⁄2 tbsp amaretto.

3. For the ganache: heat the double cream until hot, but not boiling; add the chocolate and butter and leave to melt. Stir briefly until smooth and leave to cool.

4. Whisk the whipping cream until thick, then use to sandwich together each pair of cake hearts.

5. Using a teaspoon, smooth some cooled ganache on top of each cake and sprinkle with chocolate hearts or other pretty decorations.