Smoked Fish with Mustard and Cabbage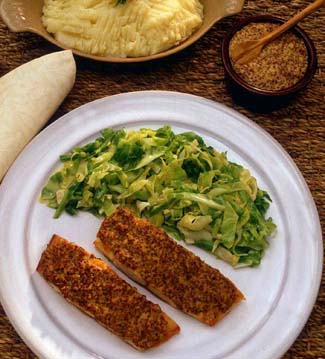 A simple, nourishing midweek meal.

Serves 4

4 portions of smoked fish fillet, eg naturally smoked haddock
Bay leaf
Slice of lemon
Salt & freshly ground black pepper
2 tablespoons wholegrain mustard, eg Lakeshore or Dalkey
1 small head cabbage – shredded
Generous knob of butter
Mashed potatoes to serve.

Place the fish portions in a pan of cold water (just enough to cover the fish), with the bay leaf, lemon and a little pepper.

Bring to the boil and simmer gently for 7 minutes, or until just cooked (ie when the flesh flakes when tested with a fork).

While the fish is poaching, cook the cabbage lightly in a little lightly salted boiling water; drain well and season with a grinding of black pepper, then toss in the butter.

Remove the fish from the cooking liquor and drain well. Spread the fish portions with mustard to taste, and flash under a hot grill.

Serve with the cabbage and mashed potatoes.