Sole Veronique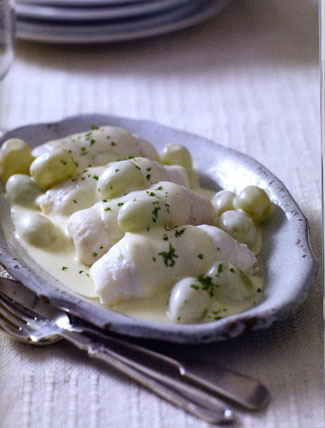 From: Fish Cookbook (Dorling Kindersley £20/€25) How to buy, prepare and cook the best sustainable fish and seafood from around the world

"This dish, with white grapes, is part of the classic French repertoire."

The fish: Lemon sole, or petrale sole, brill, or turbot

• PREP 30 mins • COOK 20 mins • SERVES 4

Ingredients

4 lemon sole, skinned and filleted
1/2 onion, thinly sliced
6 black peppercorns
1 bay leaf
100ml (31/2 fl oz) dry white wine
175g (6oz) seedless white grapes

For the sauce

45g (11/2oz) butter
1 rounded tbsp plain flour
5 tbsp warm milk
5 tbsp double cream
salt and freshly ground white pepper

1 Preheat the oven to 180°C (350°F/Gas 4). Fold the sole fillets into 3, skinned-side in. Arrange in an ovenproof dish, and sprinkle around the onion, peppercorns, and bay leaf. Mix the wine with 100ml (31/2 fl oz) water, pour over, and cover with buttered greaseproof paper.

2 Poach in the oven for 10-12 minutes or until the fish is cooked; it will be white and opaque. Remove the fish and keep warm. Strain the cooking liquor into a saucepan and boil rapidly to reduce to 150ml (5fl oz). Peel the grapes (a paperclip assists greatly), and set aside.

3 In another saucepan, melt half the butter, remove from the heat, and stir in the flour. Cook over low to medium heat for 30 seconds. Remove from the heat and blend in the milk, then the fish liquor. Return to a low heat and bring to a boil, stirring. Stir in the cream, remove from the heat, and whisk in the remaining butter. Season, add the grapes, and heat through.

4 Lift the fish on to warmed plates. Carefully spoon the sauce over to serve.

Prepare ahead: Peel the grapes up to 4 hours in advance, cover and chill. Return to room temperature before adding to the sauce.