Spicy mussel cakes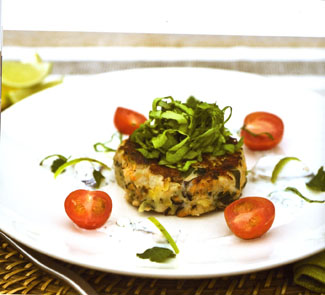 Crab cakes are a favourite dish all over Ireland, so why not something equally delicious with other local seafood, such as mussels? Here John O'Toole, Head Chef at the McEvilly family's lovely Cashel House Hotel at Cashel, Co. Galway shares a simple but unusual dish that he has created using local mussels.

SERVES 8

400g / 14oz mussel meat
500g / 1 Ib 2oz potato, mashed
2 garlic cloves, crushed
2 spring onions, finely chopped
1 tsp Cajun spice
50g / 2oz butter
Splash of olive oil
200ml / 7fl oz natural yogurt
2 sprig fresh mint, roughly chopped
1 lemon, zest and juice
150g / 5oz salad and herb leaves

Chop the mussel meat finely and add to mashed potato. Leave in the fridge to cool.

Put 25g/1oz butter in pan and gently cook the garlic and spring onions until soft, but avoid browning.

Add the Cajun spice and continue to cook for 1 minute to release the flavour. Set aside and let cool.

Mix the mint, yogurt and lemon rind together and add a pinch of cracked black pepper and sea salt. Add the spicy garlic mix to the mussel mash along with the lemon juice and mix thoroughly. Cool in the fridge.

When cold, tip the mixture onto a floured surface, roll out and cut into round shapes as you would if making scones.

Place on a floured tray and return to fridge until nice and firm (approx 30 minutes).

Using the remainder of the butter and olive oil, gently fry the cakes until golden brown on both sides. Remove from the pan and bake in a hot oven for 5-7 minutes to ensure they are heated through.

Toss the salad and herb leaves in about a quarter of the yogurt dressing.

To serve, place a fish cake in the middle of each plate, surround with a teaspoon of the dressing and place a small handful of the salad and herb mix on top.