Winter Stir Fry with Chinese Five Spice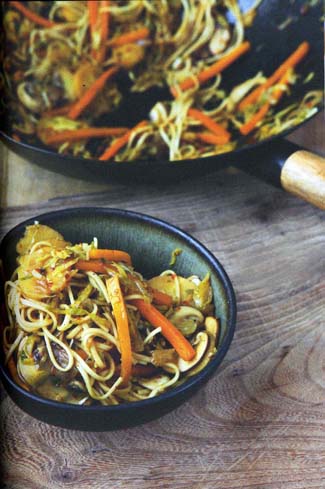 From Hugh Fearnley-Whittingstall's River Cottage Veg Everyday (Bloomsbury Hardback stg£25)

"The warming hint of star anise within Chinese five-spice powder gives this dish character. You can chop and change the vegetables a little depending on what you have to hand - celeriac instead of parsnip, for instance, or shredded cabbage rather than sprouts - but I do think this is a particularly fun way of using Brussels sprouts."

SERVES 2

1 large carrot, peeled
1 small parsnip, peeled
About 100g shitakc, chestnut or firm button mushrooms, trimmed
About 100g Brussels sprouts, trimmed
2 nests of fine, quick-cook egg noodles (about 50g)
2 tablespoons sunflower oil
3 shallots, or 1 medium onion, finely sliced
½-1 medium-hot red chilli, deseeded and finely chopped
1 garlic clove, finely chopped
A good pinch of sugar
1 tablespoons soy sauce
2tablespoons rice wine
½ teaspoon Chine five-spice powder
A good squeeze of lime juice
Sea salt and freshly ground black pepper.

Prepare the veg first: cut the carrot into thin batons and the parsnip into thin discs; finely slice the mushrooms; finely shred the Brussels sprouts.

Cook the egg noodles according to the packet instructions.

Meanwhile, heat the sunflower oil in a wok over a high heat. Add the shallots or onion and chilli and stir-fry for 1 minute. Add the carrot and parsnip and cook for 2 minutes, then add the mushrooms and garlic and stir-fry for a couple more minutes.

Finally, add the Brussels sprouts and cook for another couple of minutes until wilted. Season well with salt, pepper and a good pinch of sugar and scoop out of the wok.

Drain the noodles. Reduce the heat under the wok and add the soy sauce, rice wine, five-spice powder and noodles. Cook, stirring for a couple of minutes, then return the vegetables and toss the lot together over the heat.

Heap the stir-fry into warmed serving bowls and finish with a good squeeze of lime juice.