2007 Award Winners ATMOSPHERIC RESTAURANT OF THE YEAR 2007
La Peniche, Grand Canal, Dublin 4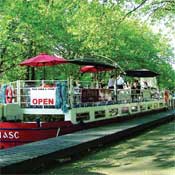 Now we move back to Dublin and the Atmospheric Restaurant of the Year - we always have great fun thinking about the best establishments in this category and there are usually some real one-offs on the shortlist. And this year is no exception - it has often seemed strange that, while dining afloat has long been an attraction in other European cities, Dublin has remained stubbornly out of the loop. Until now!
So, when the team from the popular French/Belgian St Stephen's Green restaurant La Mère Zou opened their floating restaurant, La Péniche, on the Grand Canal (with assistance from Waterways Ireland) last spring, it was immediately a hot contender. Even though we tend not to give awards to establishments in their first year of business, this entertaining experience is especially welcome, and is such a big plus for Dublin that we couldn't resist. The barge is usually moored on the south bank of the canal, west of Baggot Street Bridge, but on Thursday nights dinner is even more fun, as it's eaten under way as La Péniche cruises the canal.
So why not high-tail it down to the Grand Canal, slip onto one of their red velvet couches and ring your personal bell for service!
Dining afloat is an attraction in many European cities but, until relatively recently, Dublin has remained stubbornly out of the loop. The barge is smartly got up with red velvet couches and seat covers, and gleaming varnished tables complete with a s ...
more...
---
Show me all 2007 Award Winners