2010 Award Winners ATMOSPHERIC RESTAURANT OF THE YEAR 2010
Sha Roe Bistro - County Carlow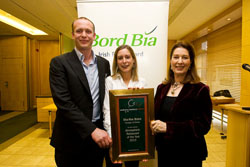 This is a very special award, because it invariably goes to an establishment that is really outstanding in every way – and has that special extra 'something' that makes a great atmosphere to showcase the whole operation, so that every visit is sure to be memorable.
It's often partly down to the building itself, or the way it has been converted or decorated, and that's certainly the case this year, as it is a charming setting – but it would be nothing without the people who have dedicated themselves to creating a really fine restaurant.
Chef Henry Stone, and his partner Stephanie Barrillier's delightful little restaurant is in a fine 18th century building in Clonegal, a pretty and well-preserved village on the borders of Wexford, Carlow and Wicklow, away from the main road to anywhere.
Henry - a talented and dedicated chef running a serious kitchen - has a well-earned reputation for enticing menus, faultless cooking and good value, making Sha-Roe well worth a detour.
So, first time visitors coming for good food will be very pleased indeed with what's on their plates – but there's much more to the Sha-Roe than what comes out of the kitchen, however good the cooking.
The building has been very sympathetically converted, with many delightful details – an odd little insert in an uneven original corridor wall provides a shelf for a nightlight, a tiny old cottagey window in the back of the dining room has been retained, allowing a peep into the kitchen.
Arriving on a chilly autumn night, a welcoming log fire burns in the lovely sitting room and, in the dining room itself, a glowing stove in a big open stone fireplace has wood stacked up alongside ready for refills.
Nightlights flicker everywhere, and simply laid tables are graced with a stone mustard jar holding a simple bouquet of fresh flowers. Most of all, the welcome is warm and the highly professional service, under Stephanie's guidance, is genuinely caring – there's the sense of a happy team at work.
This is a place where guests can relax and enjoy outstanding food in the confidence that everything will run smoothly. Charming – and very, very good.
Away from the main road to anywhere, the pretty and well-preserved riverside village of Clonegal is on the borders of Wexford, Carlow and Wicklow. And here, in a fine 18th century building, you will find Henry and Stephanie Stone's small but beautifull ...
more...
---
Show me all 2010 Award Winners