2011 Award Winners ATMOSPHERIC RESTAURANT OF THE YEAR 2011
L'Atmosphere Restaurant - Waterford Co Waterford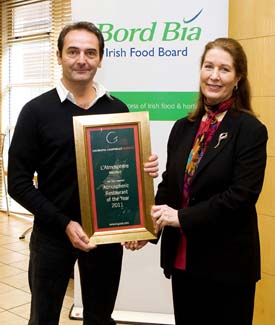 "Irish diners place a high premium on atmosphere – often rating it above even the quality of food when choosing where to eat out – but, as everyone familiar with past winners of our Atmospheric category will know, we seek out establishments that offer very high standards all round, with great atmosphere as the icing on the cake.
And L'Atmosphère has much more to it than the name implies – this well-run restaurant was actually nominated in several categories, including family-friendly, by our assessors, and it was especially praised for giving 'value for money' – for which we have no category, as all of our award winners are expected to deliver value for money as matter of course.
What you will get here is not just characterful stone walls, flickering nightlights and extremely friendly service, but typical French bistro and 'gran'mère' cooking at its best - food with a real home cooked flavour.
Leg of lamb baked for 6 hours is a speciality, for example; it would be a labour of love to cook at home, and makes a treat in this convivial restaurant.
For their commitment to real food, generously served at reasonable prices – and all-round customer-friendliness - Arnaud Mary and Patrice Garreau's L'Atmosphère restaurant in Waterford is a very deserving winner of our coveted Atmospheric Restaurant of the Year Award."
The closely packed tables in Arnaud Mary and Patrice Garreau's well-named French restaurant in Waterford don't matter too much - the decor is basic, with pine tables, paper napkins, and menus that double as paper table mats, and it all adds ...
more...
---
Show me all 2011 Award Winners