2009 Award Winners BEST USE OF FRESH INGREDIENTS AWARD 2009
The Mustard Seed at Echo Lodge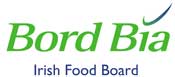 "Customers are increasingly looking for information on how their food is produced and where it comes from - providing supplier and country of origin information on menus assures diners where the food on their plate has come from", say Bord Bia, and their 'Best Use of Fresh Ingredients Award' aims to encourage chefs to support local and artisan producers by sourcing freshly available produce (meat, eggs, fruit and vegetables), and highlighting this on their menus.
Crediting the origin of ingredients highlights the value attached to quality produce and acknowledges the people who work so hard to ensure consistently high standards; it is also interesting and – by setting the ingredients used in a local context - makes dining out a more meaningful experience.
This award recognises an outstanding level of commitment to traceability, and the creative use of local and speciality foods in making truly memorable meals.
As for the winning establishment, Dan Mullane's renowned Mustard Seed at Echo Lodge, you will find many delicious speciality foods on head chef David Rice's menu, including carefully selected Irish beef, free range pork and ultra fresh seafood from nearby Cork and Kerry – but you don't even need to see the menu to understand the ethos here, as it is all around you in beautiful and productive organic kitchen gardens that are laid out welcomingly with paths for guests to explore and enjoy.
Good local food in the garden, in the kitchen and on the plate has always been at the heart of this wonderful place – it simply doesn't get fresher than here.
Dan Mullane's famous restaurant The Mustard Seed started life in Adare in 1985, then moved just ten minutes drive away to Echo Lodge, a spacious Victorian hideaway set on seven acres of lovely gardens, with mature trees, shrubberies, kitchen garden and ...
more...
---
Show me all 2009 Award Winners