2014 Award Winners BUSINESS HOTEL OF THE YEAR 2014
Limerick Strand Hotel, Limerick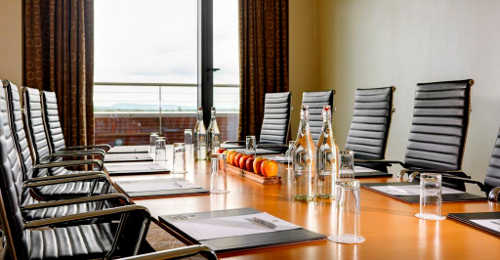 While other guides are focused on the leisure market, we have always taken the needs of business guests into account when making our selections, and we appreciate the value of business tourism also.
Just across the river from the main commercial heart of the city, this hotel has an unexpectedly quiet ambience in the spacious ground floor areas and takes full advantage of views of the city and distant hills from the upper floors. Although equally attractive for leisure breaks, it is especially well equipped for business guests - an executive floor has a dedicated lounge, in-room work is well provided for and there's cutting edge conference technology as well as numerous meeting rooms.
Off duty, business guests will all appreciate the Health Club, with pool, gym and beauty therapy rooms for both men and women among the facilities - and dining in should be no hardship, as the kitchen team takes pride in local provenance and works hard to ensure an above-average hotel restaurant experience.
Like Derry, where a wonderful transformation has taken place this year, the perception of Limerick is changing fast - and a stay at this pleasant modern hotel will show you a different view of the city.

Just across the Sarsfield Bridge from the main commercial heart of Limerick, the Limerick Strand Hotel is a blocky relatively new seven-storey hotel. Accessed from the rear, it has a pleasant, unexpectedly quiet ambience in the spacious ground floor ar ...
more...
---
Show me all 2014 Award Winners
Apps and Books
Blackberry App

Quickly and easily find all the very best places to eat, drink & stay across the island of I ...

more...

iCook with Neven

Join Neven Maguire in the kitchen with 60 of his favourite recipes - old & new - on his very ...

more...