2012 Award Winners CAFé OF THE YEAR 2012
Builin Blasta - Spiddal, Co Galway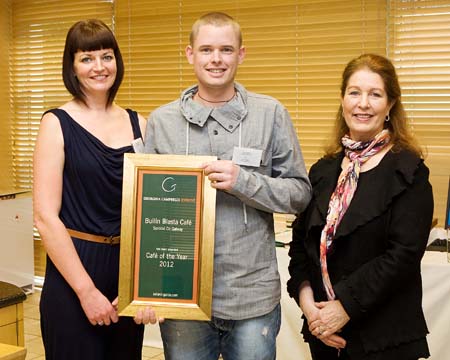 A partner to the casual dining award that we introduced last year, we wanted to give recognition to the best of those valuable all-day operations – usually small and owner-run – which not only lift the visitor's spirits in a flash, but also the reputation of any town or village lucky enough to be its chosen location. Our main aim was to seek out good simple cooking based on quality ingredients - and especially the home baking that can be the highlight of a day out; a genre favoured by recession, the numbers are growing nicely.
Visitors to Connemara will find an excellent example in a simple café-cum-bakery at a craft and design centre at Spiddal, where New Zealander owner-chef, J-me Peaker, has made the small café-bakery
Builin Blasta
(The Tasty Loaf), a magnet for discerning foodies.
The café offers a lovely range of all-day food and everything is delicious, with some nice original touches. Tea is made with real leaf tea and baking is a genuine forte here; as well as excellent quality homemade breads and cakes, there's a selection of House chutneys, jams and dressings for sale…one for the sat nav.
UNDER NEW MANAGEMENT - AWAITING RE-ASSESSMENT This attractive café-cum-bakery makes a good stopping off point for visitors to coastal Connemara situated, as it is on the Galway side of Spiddal village on the main road west. The ...
more...
---
Show me all 2012 Award Winners